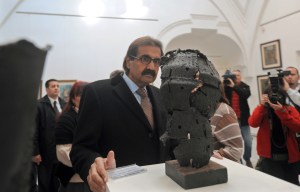 In her Financial Times column this week Georgina Adam reports that Qatar may be planning a biennial.
Here's that item, which makes a pretty good argument for it:
"Is the state of Qatar organising a biennale for 2014? According to the French newspaper Le Figaro, an event is being prepared in secret and a "college of experts" will work on the project but, in the longer term, Dr Abdellah Karroum, newly appointed director of Doha's Mathaf: Arab Museum of Modern Art, might oversee it. Asked about this at the launch of Curate, a new prize being launched by the Qatar Museums Authority and the Prada Foundation, Ed Dolman, QMA executive director, said he had seen nothing in the programme about a new biennale. Qatar is, of course, the biggest buyer in the art market, with a number of members of the royal family, particularly the emir's daughter Sheikha Mayassa Al Thani, being avid collectors in a number of fields."
Read all the other items here.