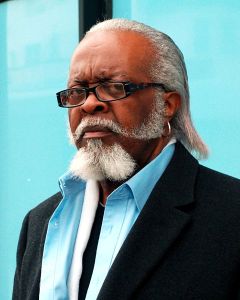 In what has to be the best endorsement of the mayor's race so far, Jimmy McMillan from The Rent is Too Damn High Party has earned a nod from none other than Papaya King.
The cheapo hot dog eatery not only plans to promote Mr. McMillan and his mutton chops in its stores, but has invited him to treat its new location on St. Mark's Place–which will be celebrating its grand opening tomorrow–as an "unofficial" campaign headquarters. It's also planning to  introduce a new specialty hot dog, "The Jimmy McMillan," in his honor.
"That's right, they invited me," a smitten Mr. McMillan told his fans in a YouTube video posted earlier today of the party. He could barely contain his amazement as he talked about the dog.
"I said, 'Wow! That's amazing! All these people gonna be eatin' me,'" he said to the camera. "Oh that's so hot! A hot dog with mustard and relish! That's better than Anthony Weiner!" he added, making a pun on one of his potential rival's names. "Hey–I didn't say that! I love you guys!"
In a letter to Mr. McMillan, Papaya King's Blake Gower stressed just how much the hot dog shop has in common with the perennial candidate and activist who shot to fame following his unforgettable appearance during the great 2010 New York gubernatorial debate, where his slogan, "The Rent is Too Damn High!" made waves.
"Today, you can get 2 franks and a famous papaya drink for $5; you can't even buy a latte at Starbucks for that price!  Food and drink is too damn expensive. We share similar values to your campaign and your message could not be clearer," Mr. Gower wrote in the letter, signed: "Stay fly, Jimmy.  Stay fly."
Mr. McMillan tweeted about the endorsement Friday with the words "Papaya King (Jimmy McMillan) hoy [sic] dog" and a link to the video, which appears to have been filmed this morning in Mr. McMillan's car. In case you want to stop by, the grand opening will take place tomorrow at 3 St. Mark's Place from 12 p.m. to 4 p.m. Here's the full video:
[youtube http://www.youtube.com/watch?v=tTdPeC4STuw&w=420&h=315]