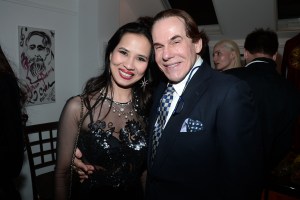 World-renowned concert pianist and painter Chau-Giang Thi Nguyen, known to her friends as Coco, spent last Wednesday morning running around her gigantic two-floor apartment in Soho preparing for an "artist showing" that was to be held in her honor that evening at the BoConcept store on Greene Street. There, the walls were being covered with the Vietnamese-born artist's paintings: bright splashy watercolors, some of which had already been bought by the litany of notable New York names that make up the 37-year-old's inner social circle.
"I'm having all my friends wear traditional Vietnamese dresses made by my friend Duc Hung," Coco told the Transom, motioning to her own walls, where the exotic gowns hung like art. Mr. Hung himself sat quietly nearby, an old friend from the Hanoi School of Music and Fine Arts, where Coco studied from age 8. (It was still the morning, so Coco was in daytime Missoni.)
"We're collaborating on an underwater opera as well," she said, while Mr. Hung smiled bashfully. This type of collaboration is not unusual for Coco, who runs her home like a cultural salon for all types of creatives, from gallery owners and tech entrepreneurs to celebrities and artists.
In Vietnamese, Ms. Nguyen's name translates to "river of diamonds," an apt description of Coco's place in New York's social milieu. In her hallway, there are photos of the social fixture with Angelina Jolie and Brad Pitt on the red carpet, back when she was engaged to the Oscar-winning TV and movie producer Brian Grazer. (Their relationship lasted five years; she got to keep the ring, and they remain friendly.) So is a picture of Paul Allen sitting in the foyer at her grand piano. Di Modica, the Italian artist who created the Wall Street Bull sculpture, is a frequent guest, as are the photographers Peter Beard and Arthur Elgort, whom she estimates have taken 800 and 400 photos of her, respectively.
"We met in Soho," she said of Mr. Elgort, "back when I was studying at Juilliard for music and was taking classes in the morning and night at Fordham. We were somewhere where there was a piano with sun shining on it, and I just began to play. The next day he sent over like 20 photos he had taken of me as a gift."
"I had no idea who he was, so I would give them away as gifts to people at the hair salon," she continued.
When we arrived at her apartment, she had just been messengered a copy of Eric Schmidt's book The New Digital Age, which had come out the day before. Page Six has had a field day romantically linking the Google exec to the pretty Vietnamese artist, though she shies away from the topic.
"We've known each other for five years," she said. "He's my adviser and also bought some paintings." Asked to describe the relationship or his capacity as an adviser, she held firm: "We are good friends."
A source close to the couple told the Transom, "Eric is always telling Coco she is the smartest person he knows, and vice versa." He is also helping her create a YouTube channel so she can showcase her work and that of her friends to young Vietnamese children. (She is looking to have Digital Age translated into Vietnamese.)
If Coco can act as a sort of accidental muse to boldfaced names, she has plenty of her own talent to go around too. Last September she played a solo concert at Carnegie Hall, and this summer she will be going to Monaco with Robert Redford and several artists to showcase their work at the region's largest museum, Océanographique. The classically trained Coco will be the only performer of the bunch, and her performance will be accompanied by a giant coffee table book of her artwork, published by Rizzoli. "Most people give away CDs, I give away art books," she told the Transom.
"Well, I also give away my CDs," she added.
She gave away a lot more that day than just CDs: before the interview, Coco generously offered us not only one of the bespoke Vietnamese dresses, but a piece of original artwork as well. And if we wanted a signed copy of Digital Age?
"That shouldn't be a problem," she said.