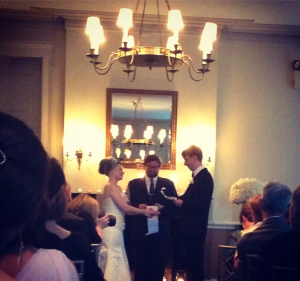 Leaning Out of Tumblr Jessica Bennett, the Tumblr employee who was laid off with the shuttering of Storyboard, announced today on Twitter that she's taken a job with Facebook COO Sheryl Sandberg. "Turns out being fired ain't that bad," she tweeted, along with a link to a Facebook post by Ms. Sandberg herself announcing Ms. Bennett's hiring:
"So excited to welcome Jessica Bennett to the Lean In team! Jessica is joining us to run Editorial – helping us connect women all over the world with their passion for leaning in! Special thanks to Nell Scovell and Rachel Sklar for introducing us to Jessica!"
How much leaning in was required to land that job?
Must Square TV You may not have realized it, but the most recent episode of Parks and Recreation was actually one big native ad for Square. An excited @Jack Dorsey retweeted a fan noticing that the mobile payment dongle was being used at the digitally attuned boutique owned by Tom Haverford. If Rent-A-Swag is the first Pawnee outpost to employ Square, what will be the second? We're guessing Paunch Burger.
Sunglasses at Night Since an appeals court judge blocked the TLC's ehail pilot program again, the city's would-be disruptors have kept quiet (for now). Now, they're not totally hunkered down: Last night, Ed Casabian, Uber New York's senior community manager, made the brief stroll from the company's Long Island City HQ to demo their black car app at the Queens Tech Meetup. But mum was the word about yellow cabs. He prefaced the Q&A: "I can't say anything about taxis."
But he didn't turn up wholly empty-handed. He brought a discount for new users, and, for loyal customers, Mr. Casabian pulled a pair of white faux-Wayfarers out of his back pocket and said he could offer "a shiny new pair of Uber shades."
"Come see me, I have a big box over there."
Disrupt This Monday brought the yearly entrepreneurial orgy that is TechCrunch Disrupt New York. Tech stars like Dennis Crowley, John Borthwick and the bros of Rap Genius all took their turn onstage, leading the tech blog to triumphantly announce in a post, "New York City Turns Out For The First Day Of Disrupt NY 2013." Well, Meetup founder Scott Heiferman has his doubts about that. He retorted on Twitter, "actually vast majority of ny tech is busy making internet." Pardon the cliched expression, but ZING!
Dinner Club Oh, so this is what FOMO really feels like. Four Silicon Valley power players had dinner the other night and you weren't invited. In attendance were the CEOs from Twitter, Pinterest, Square and something called Box. Scarfing down a roast chicken at Zuni Cafe in, where else, San Francisco, they probably talked about Amanda Bynes' breakdown or something equally important.
Checking Into Married Life Foursquare VP of Engineering Harry Heymann tied the knot with social software researcher Alice Marwick at Bayard's Private Dining Hall in the Financial District on Saturday. Former Tumblr employee Rick Webb officiated the ceremony, which hosted attendees like Foursquare founder Dennis Crowley and his fiancee Chelsa Skees, Sailthru VP of marketing and gal-about-town Aubrey Sabala, Vizsla founder Alex Rainert, Business Insider executive editor Joe Weisenthal, Etsy CTO Kellan Elliott-McCrea and Fashism founder Brooke Moreland.
Here's a Vine of the duo having their first dance (to Goldfrapp!), posted with the official hashtag #hplusa. Mazel, you two!