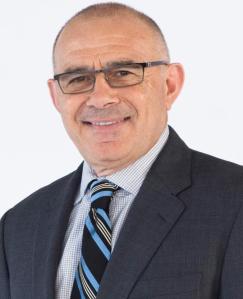 There are two Italian-American, relatively liberal men from Brooklyn in this year's race for mayor. One, both literally and figuratively, looms as one of the front-runners in a packed Democratic field. The other is Sal Albanese, an indefatigable former Bay Ridge councilman who delights in taking shots at his better-known, Park Slope-dwelling rival, Bill de Blasio.
"You listen to him on the campaign trail and you'd think he was the third coming of Martin Luther King Jr.," Mr. Albanese told Politicker yesterday when asked why the city's public advocate has earned his ire.
Mr. Albanese had just held a press conference denouncing Mr. de Blasio and the other mayoral candidates for hiring former political operatives to work in their government offices. Mr. Albanese held this event at the same location that Mr. de Blasio was holding his own press conference just 30 minutes later, creating an opportunity for awkwardness as the public advocate was setting up his union endorsement announcement. This was the second such Albanese press conference on the topic–the first one was held directly outside Mr. de Blasio's office.
And it's not only at press conferences. At a televised mayoral debate in early April, Mr. Albanese continued his pattern of clashing with Mr. de Blasio at public forums by needling him about his staffer's racy use of Twitter. It was one of the most direct confrontations at a debate so far.
In the interview yesterday, Mr. Albanese further labeled his Brooklyn rival "Broadway Bill" because of his celebrity endorsements, including Sex and the City's Cynthia Nixon and actor Steve Buscemi.
"He's more interested in having movie stars support him than being in touch with the grassroots," argued Mr. Albanese. "He comes across as this major leader of grassroots people in New York City when in fact he's just a career politician that machinates all day long … He's a behind-the-scenes guy and we're going to expose that."
Mr. Albanese's distaste for Mr. de Blasio even extends to his campaign staff. "How any reformer can support this guy is beyond me," his campaign manager Chris McCreight wrote on Facebook in March.
While Mr. Albanese rejects the idea that he and Mr. de Blasio are targeting overlapping subsection of voters–white, liberal, outer-borough residents disenchanted with Mayor Michael Bloomberg–political observers believe Mr. Albanese could end up with voters who would have otherwise chosen Mr. de Blasio, particularly Italian-Americans and residents of Mr. Albanese's old southwestern Brooklyn district.
When asked for a response to Mr. Albanese's aggression, a de Blasio campaign spokesman emailed a one-word reply: "Pass."