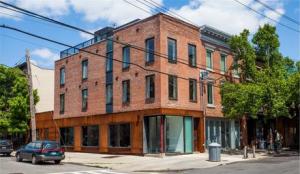 "The slum that faces the bay" is what Alfieri, an Italian lawyer in Arthur Miller's A View from the Bridge, calls Red Hook. Wedged in a subway-less corner of South Brooklyn, hemmed in by the docklands and Robert Moses's Gowanus Expressway, Red Hook was for years—as late as 1988, LIFE magazine called it "the crack capital of America"—Brooklyn's most notorious slum.
But that was then. Buoyed by an unrelenting wave of gentrification sweeping eastwards across the borough, Red Hook has been enjoying the runoff of demand from neighborhoods like Cobble Hill and Carroll Gardens, which has turned the neighborhood into any other in brownstone Brooklyn: that is, too rich for our blood (and that of most other New Yorkers).
And while some may have thought that Hurricane Sandy, which decimated Red Hook and closed the all-important Fairway supermarket for months, would put a damper in Red Hook's revival, that's clearly not the case. The Fairway is back open, and Red Hook is, once again, red hot: so hot that the owners of 386 Van Brunt Street—there's been some legal drama over the site, but Robert Lopez, Kathleen Bendsen and Betty Oliver appear to be the current owners—are asking $2.15 million for their renovated three-story red brick house (we feel a bit odd calling anything in Red Hook a "townhouse," so we'll go with the more modest-sounding "row home").
As far as three-story row homes in Red Hook go, this one is pretty impressive. The ground-level space can be put to a commercial use, and has "a beautiful exterior of original brick melded with new Corten Steel as used by renowned artist Richard Serra, and more recently installed at the Barclays Center," babble the brokers. (Douglas Elliman's Matt Holbein and Katherine Camp have the listing, though neither answered their phone.)
The upper two levels, which could be combined with the storefront space "to make a fabulous owner's triplex" (otherwise known as a house), are also newly renovated. They feature casement windows, an open kitchen and two bedrooms, two baths and an office space on the third floor. The roof deck also contains a sleek glass "bulkhead enclosure," reads the listing, from which the new owner can gaze upon their newly-gentrified 'hood.
Two million dollar asks have happened before—in fact, 386 Van Brunt wanted $2.45 million last year, and 67 Dikeman Street wanted $2.6 million—but nobody thus far has fished their wish, with 398 Van Brunt Street making the record, $1.795 million, back in 2007, according to über-appraiser Jonathan Miller.
Last year was a banner year for the neighborhood, Mr. Miller told The Observer, with six sales above $1 million—the most in at least a decade (and, we're guessing, ever, given the neighborhood's history). He hasn't seen any seven-digit closings this year, though, but there's always time!