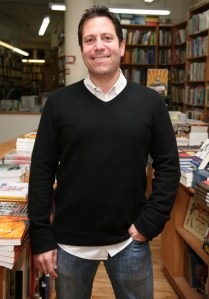 Sex and the City creator Darren Star may have inundated the West Village with flocks of would-be Carries lining up outside of Magnolia Bakery and blocking the sidewalks as they ponder their love lives via interior monologue, but when Mr. Star rested his head at night, he headed uptown to his 35th floor apartment in the Trump International Hotel and Tower on Columbus Circle.
At least, he used to—the Melrose Place– and Beverly Hills, 90210-creator just offloaded his sky-high pad, according to city records filed this morning, for a lucky $13 million.
Mr. Star's broker, Brown Harris Stevens managing director John Burger, was tight-lipped about the buyer, who was listed on the deed only as Beverly Park Corporation, domiciled on Wilshire Boulevard (coincidentally, just down the road from Mr. Star's lawyer).
However, The Observer did some sleuthing and has determined that the folks behind the shell corporation are none other than the Lowys of Australia, as revealed by a U.S. Senate hearing back in 2008 on tax havens.
Frank Lowy, the family's patriarch, was born in Czechoslovakia and spent World War II hiding out in Budapest before eventually emigrating to Australia, sandwiched in between a few years in Israel where he fought for the Haganah and the Golani Brigade.
In Australia he co-founded what would eventually become known as the Westfield Group, which developed shopping malls across Sydney, and eventually the world. (New Yorkers may recognize Westfield as the company that signed a lease to manage the retail below the old World Trade Center in 2001, and ten years later signed a $612.5 deal for a 50 percent stake in the new space designed by Santiago Calatrava.)
Mr. Lowy has appeared on the BRW Rich 200, a list of Australia's wealthiest people, every year since its inception thirty years ago, and was the wealthiest in 2010, though currently he's the runner-up, with $6.87 billion (Australian dollars, that is). His sons, Peter and Steven, have since taken over as joint chief execs, with his third son, David, managing the family's private investments.
The more than 3,000-square foot, three-bedroom spread was originally listed for $14.9 million, but given that he picked it up in 2005 for just $6.1 million, we're guessing that Mr. Star was quite pleased with the nearly $5,000-a-foot contract he inked.
Now if only Mr. Star could convince middle America that New Jersey is actually where it's at, not the West Village, the rest of us New Yorkers would be quite pleased as well.