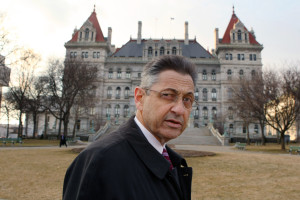 Assembly Speaker Shelly Silver's office released a statement late Thursday suggesting for the first time that disgraced Assemblyman Vito Lopez could be expelled from office following the damning Joint Commission on Public Ethics report.
Per the statement, Mr. Silver intends to introduce a resolution tomorrow asking the Assembly's Ethics & Guidance Committee to "recommend appropriate sanctions including expulsion" against Mr. Lopez following the report, which detailed what City Council Speaker Christine Quinn described as "nauseating" conduct with young female staffers.
Mr. Silver has also come under intense scrutiny for his apparent efforts to shield Mr. Lopez from the fallout, and admits he made mistakes. Mr. Lopez maintains he has been unfairly attacked.
Here's the full statement from Mr. Silver's press secretary:
"Speaker Silver intends to draft and introduce a resolution tomorrow, to be voted on Monday, to ask the Ethics & Guidance Committee to consider the full JCOPE report and to recommend appropriate sanctions including expulsion of Assemblymember Lopez. Given that an exhaustive investigation has already occurred by two public agencies, he expects the committee to be able to act quickly and to bring this matter back to the full Assembly with its recommendations for prompt resolution."