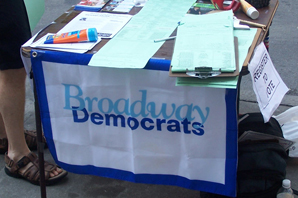 Members of the Broadway Democrats, one of the Upper West Side's most influential political clubs, are at odds over their endorsement of John Liu for mayor.
The club's endorsements process spun into minor chaos late last night when members were forced to complete their counting in the club's president's home. Then, early this morning, a member realized the club had miscounted the ballots because of a misinterpretation of the club's run-off procedures–forcing a re-count that gave the city's comptroller a victory.
"Some people are not accepting that and will be challenging that," said Curtis Arluck, the local assembly seat's male district leader, describing the fallout from the vote, which comes just over a week after Mr. Liu's former campaign treasurer and a top fundraiser were found guilty of campaign finance fraud.
The problems began around 10 p.m. when a longer-than-expected meeting forced club leadership to change locations and count the remaining ballots at club president Gretchen Borges' home.
During the club's first round of tallies, Mr. Liu received 31 votes, City Council Speaker Christine Quinn received 22, Mr. de Blasio 13 and former Comptroller Bill Thompson 4. Because no candidate received a majority, the club began an automatic run-off count, tallying voters' second and third-place choices to determine a victor.
But when the club was left with two finalists, City Council Speaker Christine and Mr. Liu, they stopped. Mr. Liu had the most, with 35 votes, but not the majority of the 71 cast he needed to win. The club determined it would make no endorsement for mayor in the race and members went to sleep.
But early in the morning, the clubs' Female District Leader, Liu supporter Paula Diamond Román, said she discovered they'd actually made a mistake. Per "Article VIII" of the club's constitution, the counters were supposed to have finished tallying up votes until they were left with a single candidate.
Members who were available–both Liu and non-Liu supporters–returned to Ms. Borges' house to continue counting. In the end, Mr. Liu came out with 42–or 59.2 percent. Of the 71 ballots, 29 offered no endorsement instead of choosing Ms. Quinn.
But the confusion left some members fuming and questioning whether the ballots could have been tampered with, leaders said.
"The process of having the votes here without anyone but me and the votes have left some people distraught that there's an opportunity for mischief," said Ms. Borges, who said the district's assemblyman, Daniel O'Donnell, was especially upset.
But she and Ms. Diamond Román blamed the mix-up on innocent confusion over a new, complicated voting system that no one really understood.
"This is not our first choice of how this would have gone," she said.
Ms. Borges said she understood the concern from members and apologized for the snafu.
"It's not the deal way to do things. Yes, we should have known what we were doing before that night …. So there's some culpability, no doubt about that."
Mr. Liu's campaign did not immediately respond to a request for comment.