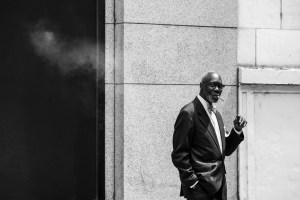 Poor smokers! Forced to shiver outside with chilly, chapped fingers all winter long, and then when the weather finally improves, New York announces that it will be expanding its state park smoking ban.
The ban on smoking in some areas of state parks had a rocky start (the state suspended it temporarily after smokers' rights groups threatened to sue) and the legal challenge is, in fact, ongoing, But apparently, New York State is feeling very cocky, not only moving forward with the ban, but extending it to even more parks. Now smokers will only be able to suck fresh air into their damaged lungs when they visit one of the city's parks. Or, the skin particle-laden air that passes for fresh in New York City.
"Our state parks embody the rich, natural beauty that New York has to offer, and our residents should be able to enjoy them free of pollution or second hand smoke," Governor Cuomo stated in a release, calling the expanded ban "an important step forward in ensuring New York's families can enjoy great outdoors smoke-free, in a healthy environment."
Smoking is already banned in all New York City parks, public plazas and boardwalks—in addition, of course, to all office buildings, restaurants, and increasingly, apartments. Smokers are increasingly being forced to huddle unhappily on the city's already packed sidewalks. State parks were some of the few outdoor spaces where smokers could still light up.
Now smoking will now be almost totally banned at Bayswater State Park, Clay Pit Ponds Reserve, East River State Park, Gantry Plaza State Park, Riverbank State Park and Roberto Clemente State Park. Smokers will be restricted to the sidewalks abutting exterior roads and the parking lots. Increasingly, the only oasis available to smokers is the back patio of a bar.
The ban will likely be unwelcome news for the city's smokers, who have had to contend with two new Bloombergian assaults recently: attempts to raise the smoking age to 21 and to hide all cigarettes behind curtains to dissuade impressionable young smokers from seeing (and therefore wanting?) them.
Moreover, the ban comes at a particularly bad time for smokers, who will not be able to light up at anything goes, topless, lifeguard-less Fort Tilden this year. The National Park will remain closed for the summer season because of Sandy damage, forcing sunbathers and swimmers into the city-controlled no-smoking Rockaways beaches.
Smoking rights advocates have vowed to continue their battle: "The obstinate posture by NYS Parks Commissioner Rose Harvey and her staff  in the celebratory announcement about this ban as if nothing is amiss is abhorrent," wrote Audrey Silk in a press release. "The crusade against smokers to date has so emboldened government  that there's no second thought to whether or not they're acting above the law by imposing law on citizens who choose to smoke and then fully expecting them to respect it."
Still, it's almost enough to extinguish a smoker's hope.
Correction: An earlier version of this article incorrectly stated that the legal challenge had been squashed. Despite the state's decision to expand the ban, it is, in fact, ongoing. The Observer regrets the error.