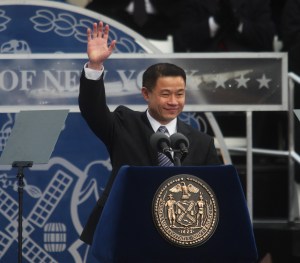 Comptroller John Liu's mayoral campaign will get the official endorsement from District Council 37, the public employees union with the largest membership in New York City, according to multiple sources familiar with the group's vote this evening.
Although Politicker's sources wished to remain anonymous in order to speak freely, a Twitter account claiming to belong to the president of Local 374/DC37 announced the news 30 minutes ago as well.
DC 37, while sizable, is not as coveted as some of the smaller unions known for flexing their organizing muscle in elections. Nevertheless, it's certainly a boost for Mr. Liu's campaign's case that their momentum is building despite two Liu associates being found guilty in a campaign finance fraud case earlier this month.
Accordingly, Mr. Liu reacted positively when Politicker inquired about the endorsement this evening.
"Yay!" he exclaimed. "I think that's great."
Additional reporting by Jill Colvin.