Every week, weather permitting, a crew of starstruck earthlings sets up camp on that agora of Bloomberg New York, the High Line, parking their telescopes just south of the Chelsea Market. "People like looking up," said David Kauffman, one of the event's organizers, sporting a blue windbreaker from a Long Island astronomical society at a recent gathering. "I think that's a natural human thing."
Even passersby slowed down to investigate.
The Observer watched three college-age women creep up to the telescopes. "That's so cool," one gushed as a stargazer explained that, if it weren't so cloudy, she'd be able to see Jupiter. One of her companions rattled off "My Very Educated Mother" and tried to puzzle out why she couldn't see Mars, prompting an explanation of planetary orbits.
"You're here every Tuesday?" asked the ringleader. "Okay, we'll be back."
Space, if you haven't heard, is having a moment. Both The New York Post and New York magazine have tackled the topic in the last month (with an NYC stargazing guide and a space tourism deep dive, respectively). It wasn't long ago that shuttle launches were buried deep in the science section—unless something went wrong—but these days, when astronaut Chris Hadfield records a version of "Space Oddity" on the International Space Station, it warrants a Today mention and a bit of armchair philosophizing from Matt Lauer: "Kids these day don't care about space exploration like we did. Maybe this will light a fire under these kids."
Mr. Lauer is mistaken.
"There has been an incredible resurgence of interest in space exploration," said Bert Ulrich, NASA's Multimedia Liaison. The Mars Curiosity rover is a viral sensation, and NASA has amassed 1.3 million followers for the little tweeting robot. Hollywood, meanwhile, can't sweep science fiction epics into theaters fast enough. This year alone has brought, or will bring, Oblivion, another Star Trek, After Earth, Neill Blomkamp's Elysium, Alfonso Cuarón's Gravity and Ender's Game. The Big Bang Theory chugs profitably along on CBS, and there's talk of a drama about Space Race journalists by the creators of Mad Men.
Even apparel makers are cashing in. In 2011, designer Christopher Kane debuted a line of expensive galaxy-print items. Since then, the trend has filtered down to the most mass-market price points. In the past two weeks, this reporter has spotted galaxy-print leggings in the plus-size section of Forever 21 and in the window of a fast-fashion store on Steinway Street, in Queens.
It's not an isolated cultural current, either. The superhero of the moment is Iron Man, a.k.a. Tony Stark, a billionaire industrialist inventor often compared to Elon Musk, the founder of SpaceX and Tesla. Futurism and science journalism are flourishing in outlets like io9, Quartz and Digg, and the World Science Festival is due to take over Manhattan this week.
"Everybody, when they're a kid, wants to be an astronaut," said Jason Townsend, who works on NASA's social media team. "When [people] see our content, they look at it and they go, 'Oh, yeah.' It clicks, and it re-emphasizes that connection people have with their childhood wonderment and everything."
But it's got a particular flavor, this cultural moment. Don't worry if you don't know a lick about trigonometry. In the New Space Age, you can wrap yourself in a Martian-surface-patterned scarf, reminisce about third-grade trips to the planetarium, retweet some photos sent straight from a tiny robot on the Red Planet—and then on to the next click.
* * *
Helping to drive this new burst of cosmic enthusiasm is the emergence of a number of serious private aerospace companies, as several of the biggest names in the tech world are taking their Internet millions and plowing them into outer-orbit gambles.
Elon Musk, of course, has SpaceX, which is already ferrying cargo to the International Space Station. Amazon founder Jeff Bezos has the rocket company Blue Origin. Larry Page and Eric Schmidt of Google have invested in an asteroid-mining venture called Planetary Resources.
"They're all going into space," said Mike Caprio, a community leader for StartupBus New York. "Like, that's what you do if you're a billionaire now."
And for the first time in a long while, we Earth-bound normals have reason to believe we might find our way off this rock one day. People on the waiting list for Richard Branson's Virgin Galactic have already paid $200,000 for a ticket and are just waiting patiently for the company to actually commence flights.
Meanwhile, even as NASA has shut down its shuttle program, it's encouraging more public participation than ever. Witness the fanfare around the recent Space Apps hackathon, a weekend-long international competition organized by NASA. Globally, something like 9,000 people participated, at 83 different sites. Mr. Caprio organized a local site that had 80 signups and 40 attendees last year; this year, more than 350 people signed up and about 200 turned out.
"We filled their entire space. We had people in every office, in all the co-working spaces. It wasn't wall to wall," as it was for a recent Fashion Week hackathon, "but it was close," he said.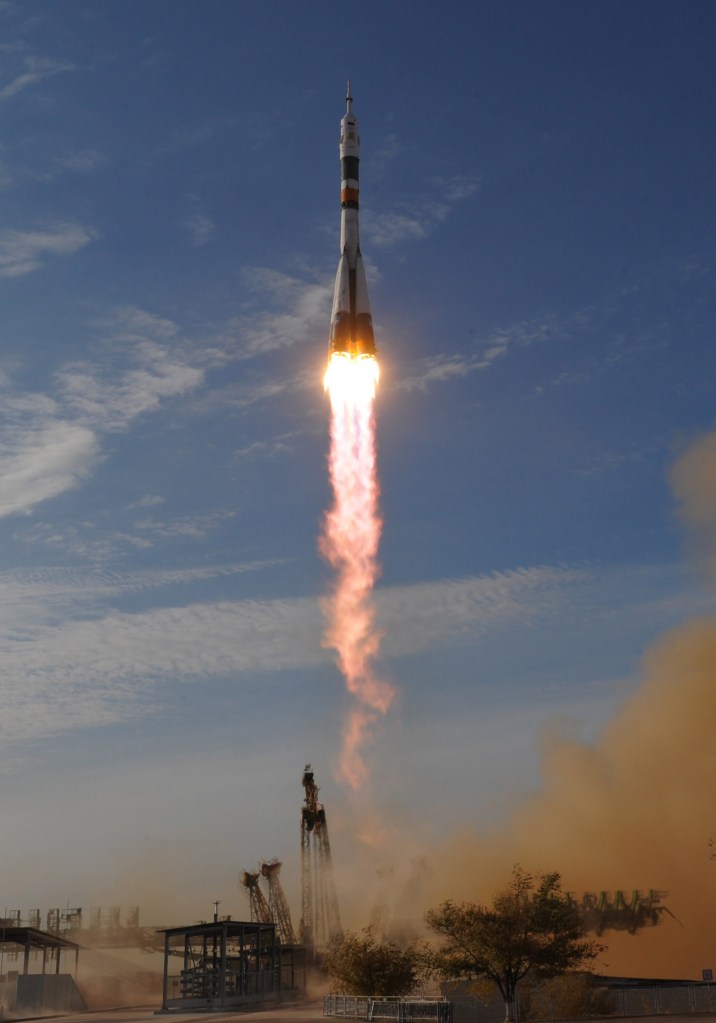 If there's a Sputnik moment for this pop-culture boom, it's probably the demotion of Pluto from planet to icy space rock. A New York Times reporter noticed in 2001 that the American Museum of Natural History had quietly booted "pies" from the old mnemonic, but it wasn't until 2006 that the International Astronomical Union voted to make it official. This kicked up an outrage on the social web, inspiring Facebook groups like "When I Was Your Age, Pluto Was a Planet" (which peaked at a million-plus members) and T-shirts with slogans like "Pluto: Never Forget."
The man who took much of the heat for the move was Dr. Neil deGrasse Tyson, the head of the American Museum of Natural History's Hayden Planetarium. As the furor grew, he turned up on The Colbert Report wearing one of the space-patterned ties that would become his trademark.
"There are, like, five moons in the solar system bigger than Pluto," Dr. Tyson bantered with the host, good-naturedly acting out the scientific straight man, endearing himself to a generation that had loved Bill Nye the Science Guy. The controversy set him on a path to wider pop-cultural stardom: here was a Carl Sagan for the Twitter age.
As the fascination with his field grew, his star rose. In 2007 he published Death by Black Hole: And Other Cosmic Quandaries, which reached the New York Times best-seller list, and he appeared regularly on The History Channel series The Universe. In, 2009 he got his own radio show, StarTalk. For several years, he hosted NOVA scienceNOW.
Dr. Tyson remains a bona-fide star, the rare scientist on speed dial for TV hosts. His books get blurbed by Jon Stewart. He's got 1.2 million Twitter followers. He's appeared in an issue of Action Comics, helping Superman find the location of Krypton. He recently admitted to the Columbia Journalism Review that he no longer spends as much time ambling through the museum because he's just too recognizable.
The museum, by the way, is faring very well: "We were very concerned, like everybody else, when the recession hit," admitted Mordecai-Mark Mac Low, the museum's astrophysics curator. But visitation has increased steadily, and he says that for the first time, it's competitive with the Metropolitan Museum of Art.
Next year, Dr. Tyson will host a follow-up to Cosmos, the popular science series beloved by nerds for decades. Joining Carl Sagan's widow, Ann Druyan, as executive producer? Family Guy creator Seth MacFarlane. And forget relegating the show to PBS; episodes will premiere on Fox, in prime time. That's the sort of placement usually reserved for So You Think You Can Get Famous Off a Sex Tape?
* * *
Of course, this particular cultural moment lacks the pocket-protector earnestness and military-grade seriousness of the Apollo era, and it doesn't really channel the awestruck wonder of Carl Sagan's "billions and billions of stars," either. The mood could best be described as childlike enthusiasm, the product of our boundless optimism about technology's promise crossed with our Internet-fostered ability to engage without actually engaging.
As a testament to the renewed popularity of space, Mr. Ulrich offered the example of the Times Square viewing of the Mars Curiosity rover's landing. "We expected maybe a couple hundred to watch the landing, and what happened instead is there were thousands, and they were chanting 'NASA.'"
On the one hand, it's reminiscent of neighborhoods gathering around primitive televisions to watch the moon landing. On the other, it sounds like Monday Night Football.
And there are limits to what this enthusiasm can actually accomplish. For one thing, it doesn't necessarily translate to capital: one (very, very) long-shot spaceflight startup, Golden Spike, tried using Indiegogo to raise $240,000 but only scraped up $19,450. Private aerospace companies will succeed or fail based on some combination of technical progress, business savvy and plain old luck. Advancing technology to the point that it's cheaper to fund truly aggressive space exploration is no simple matter, either.
"It might take a century," said Mr. Mac Low. "How long was it between Columbus, who after all was still a government-funded expedition, and more or less private explorers going out and founding colonies in the Americas?"
Not to say enthusiasm isn't welcome. Mr. Mac Low pointed out that the Mars Rover enthusiasts are more likely to support federal funding for science, for example.
"There's a lot of competition for people's attention and interest. You can go for everything from entertainment to religion to social gaming, you know, so if science is getting some mind share, that's a very important statement."
Still, NASA faces an uphill battle in Washington. In 2010, the Obama administration canceled a plan to return to the moon, prompting an angry letter from the reclusive Neil Armstrong and several fellow astronauts. Without the training provided by regular spaceflights, they argued, "the USA is far too likely to be on a long downhill slide to mediocrity." Few are optimistic that NASA will again be flush with government funds—short a Newt Gingrich presidency—and space-mad 20-somethings aren't likely to move the needle on budgetary gridlock.
Even from his perch on the High Line, Mr. Kauffman occasionally sees people disappointed with the reality of what the telescope has to offer. "When they see these Hubble pictures, that's what they expect to see," he explained. Besides, the science itself isn't exactly a walk in the park. "When you actually get to the nuts and bolts of it, it's hard."
Then again, pondered Mr. Kauffman: "People, in general, I think, like looking. And I guess that's a good start."
kfaircloth@observer.com