How common is it for an audience member to go from "shushing" a fellow patron to actually touching them? It seems to happen all the time.
Observer theater critic Jesse Oxfeld recalls "the time I reached across my date and grabbed an old man's arm as he started opening his second bag of M&Ms. After I'd patiently sat through him crinkling his way through the first bag."
But that was nothing compared to the recent experience of Dean Kurth. The television news producer was attending Matilda on April 19 when his companion asked the woman next to him "to stop talking and texting. "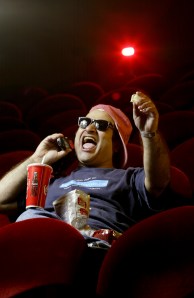 "Apparently he brushed her arm lightly in an effort to get her attention," Mr. Kurth related in an email. "She didn't like that and their conversation quickly became a shouting match that was audible to many over the show. The woman was yelling, 'Don't put your hand in my face!'
"At intermission the woman started up again as my friend and I tried to leave our row. It got pretty ugly, and this time the entire crowd in the balcony took notice." A uniformed security guard had to intervene, and further confrontation was prevented only thanks to the woman switching seats.
"I'd never seen anything like it," wrote Mr. Kurth. "I guess the lesson is, don't touch anyone in a dark theater."
Of course, another disruptive thing people can do with their smartphones is take pictures. Broadway hosts a wide variety of Hollywood celebrities, and theatergoers are being asked to pay $150 or more, even for mediocre seats. With such an outlay required to see the likes of Tom Hanks in Lucky Guy or Alec Baldwin in Orphans, it is hardly surprising that many people feel it's reasonable to augment their social media presences with a souvenir photo of the evening.
On recent nights at I'll Eat You Last with Bette Midler and Macbeth with Alan Cumming, the ushers could be observed swarming like moths as the first act began, drawn to the telltale glows of half a dozen camera phones.
But even that behavior pales next the enterprising souls who realize their devices can also shoot video. Last February, Matthew Broderick famously stopped the show and broke character when he noticed a man in the audience filming him in Nice Work If You Can Get It.
While bootlegs have a long, proud history in this city—rock historians are grateful that performances at CBGB and the Fillmore East in the 1970s were not lost to posterity, thanks to smuggled shotgun microphones—many, like Mr. Broderick, would probably prefer that you simply purchase a CD at the merch stand.
Ken Davenport, a producer whose credits include Macbeth, Kinky Boots and Godspell, believes the industry needs to respond to increasingly poor behavior in the stalls.
"Theatergoing manners (like manners in general) have been on the decline over the past 20 to 30 years," he wrote on his blog, the Producer's Perspective, in April. "As our audience expanded, and our ability to sit still has waned, some manners have gone out the window."
Mr. Davenport offered a six-point plan for improving audience behavior, including better training for theater staff and publishing a guide to etiquette in every Playbill and emailing it to customers before each performance.
Point No. 6: "Install ejector seats?"
One time, not too long ago, I even got into an argument at a show with a Broadway actor. It was Pacific Overtures at Studio 54, which had an ambiguous seating arrangement using four-top bar tables. The second act was in full swing as I squabbled over seats with Tony Roberts, known for playing Woody Allen's best friend in several of his films and their stage versions.
When the usher got involved, she discovered it was the other couple at the table that was squatting. Mr. Roberts and I muttered our apologies, and years later I saw him in Xanadu.
If it happened again today, I believe the etiquette would be to hit him.