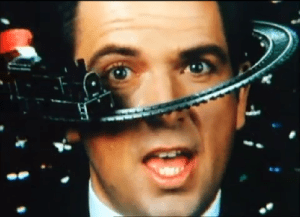 Peter Gabriel to Sledgehammer music industry Cuesongs, Peter Gabriels' song rights company, is planning on the "genesis" of a new way of legal music listening by a partnership with Audiosocket, a music licensing and technology business here in the US. The Brit's company, which includes music from Dido, Groove Armada and Ziggy Marley, plans to license its artists to Audiosocket, whose customers include systems like Vimeo. They hope that it will give legitimate access to music fans while simultaneously paying artists. Here's hoping it will bring the stop-motion awesomeness of his 1987 video back into fashion.
BitPay gets bitpaid The rise of Bitcoin continues. BitPay, the online payment system for booming digital currency Bitcoin, has garnered $2 million in its first round of seed funding. The investment, led by Founders Fund, includes three founders of PayPal, the system's real-life monetary analogue. CEO Tony Gallippi states that they pushed forward raising capital due to the interest from Founders Fund.
eBay gets Friendly again eBay has officially opened applications for their Friends of eBay co-working space. The initiative provides free office space and resources at the company's Chelsea office, with a May 27th deadline for applying. After initial successes with a collection of startups in January, the benevolent company is keen to keep encouraging younger companies that were just like itself once upon a time. The eBay family in NYC now includes little siblings Hunch and Svpply.
Brooklyn does the robot As part of the all-encompassing World Science Festival, MetroTech Commons is being transformed into "Innovation Square" on June 2. The square will feature "robots that fly and robots that save lives, cocktails made with a super evaporator, interactive video games, 3-D printed wares and amazing live performances by Blue Man Group Tech-Guru Bill Swartz among others." So basically expect a bunch of drunk humanoid machines running amok while listening to some whimsical percussion.
Times presses play The New York Times has debuted a new music section, allowing readers to listen to one track each off newly released albums. The first two batches focus on international newcomers like Willy Moon and Alpine, indie darlings like CocoRosie along with recently released classic recordings from Tony Bennett and Dave Brubeck. The site hopes that the provision of exclusive tracks and slick page design will give it an edge over similar outlets.
The suite life New online hotel search engine TheSuitest.com tells us it is nearly ready to launch. The site, that allows users to compare 4 –star hotels on more features than just availability, location and pricing, is the brainchild of Jeremy Murphy, a former quantitative finance analyst/portfolio risk manager, and Mike Aucoin, a former software developer for Microsoft. They have yet to comment on whether or not their site might be confused with an upmarket tailor's.