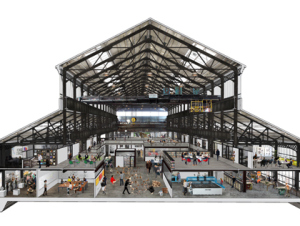 "New Lab" For Brooklyn Navy Yard Real estate developer Macro Sea opened the first "beta" portion of its New Lab project at the Brooklyn Navy Yard yesterday, a year ahead of schedule. The opening, which was attended by City Council Speaker and mayoral candidate Christine Quinn and Borough President Marty Markowitz, will welcome a "first-of-its-kind advanced manufacturing hub" which will be the centerpiece of the Brooklyn Navy Yard's 220,000 square foot Green Manufacturing Center. The New Lab will give entrepreneurs a place to create and test their businesses alongside other engineers and designers. Maybe the first thing they can figure out is an easy way to actually get to the Brooklyn Navy Yard.
More Bitcoins With Gift Cards Mobile gift card company Gyft is the most recent business to jump on the Bitcoin bandwagon, agreeing to let users who purchase gift cards on its Android platform use Bitcoins as a purchasing method. Gyft is partnering with Bitcoin payment system BitPay for the transactions, which will now open 50,000 physical locations including GAP, Lowes, Sephora, GameStop, American Eagle, Sports Authority, Nike, Marriott, Burger King, Fandango, Brookstone, and more to customers wishing to use Bitcoins.
City Council Approve Tech Campus The New York City Council voted Wednesday to approve the building of Cornell's Roosevelt Island Tech campus. The vote is the final step in the city's land use review process for Cornell NYC Tech, the two million-square-foot applied sciences and engineering campus that will be located at the Goldwater Hospital site on the island. The vote also included a number of programs associated with the campus that will be instituted, including a one-year summer ferry pilot program to the island.
Meetup For Women In Tech Google is teaming up with Personal Democracy Forum to offer 15 free registration/fellowships to their 10th annual Tech/Politics/Advocacy Conference, which will be held June 6-7 in New York. PDF is apparently looking for women who are "deploying new applications of technology in the political or civic arenas." While coding & dev skills are a plus, they aren't required, so ladies with any level of tech skills should consider applying. The lineup already includes Becky Bond, Catherine Bracy, Kimberly Bryant, Sara Critchfield, Jaclyn Friedman, Dan Gillmor, Joi Ito, Nancy Lublin, Liz Mair, Nate Silver, Ben Rattray, Harper Reed and Douglas Rushkoff along with top execs from Github, Google, Uber, Union Square Ventures, with more to be announced later. Personal Democracy Forum is aiming for 50/50 representation of women onstage,which is probably some sort of record.
Film Startup Gains Investors Digital distribution service Yekra, known for its "AffiliateConnect" feature which allows studios, networks, and filmmakers to build movie for specific audiences by genre or topic, announced it raised $3 million in a recent round of seed funding from Angel Maurice Gallagher and Bray Capital. Next Thursday, the site will premier the digital release of the new art culture documentary Tattoo Nation, which features Danny Trejo, Travis Barker, Ed Hardy and other icons of the tattoo world.
Art Meets Tech Marina Abramović and Siena Oristaglio will be speaking about the cross section of tech and art next Wednesday at 7 p.m., at an event hosted by General Assembly. The Serbian performance artist will be speaking alongside her social media developer Oristaglio about the development of the MAI Institue as well, which will open in Hudson, New York, in the near future, and will pursue "a role in culture by seeking productive unions between the arts, science, technology, spirituality and education."