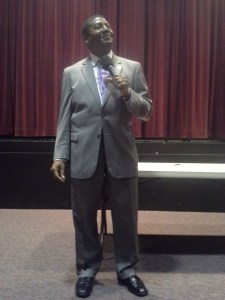 It is a question few in the New York political establishment dare to ask publicly: is the seemingly endless string of indictments and arrests of elected officials a conspiracy against minorities in power?
But there was Queens State Sen. James Sanders Jr., bellowing in a theater with a preacher's rhythm, more than implying last night that the recent arrests of black elected officials like Assemblyman Eric Stevenson, State Sen. Malcolm Smith and State Sen. John Sampson were not coincidental. Even State Sen. Shirley Huntley, who admitted to stealing funds earmarked for her district's underprivileged children and was sentenced Thursday for her crimes, could have been linked to a conspiracy, Mr. Sanders said.
Ironically, Mr. Sanders defeated Ms. Huntley last year–after she was indicted–and took her seat in the State Senate.
"Why aren't we hearing about other people wired and looking at different communities? Why is it seemingly a focus on this community?" the freshman state senator asked. "Why are we allowing folk who've been in power longer–who are perhaps smarter and slicker, who are are more dangerous under those conditions and perhaps robbing far more–we leave them alone and we target these over here?"
The mellifluous Mr. Sanders was speaking at last night's "Attack on Black Leaders: Corruption or Conspiracy?" forum in the Black Spectrum Theater in the St. Albans neighborhood of Queens. After a showing of the R-rated 1993 political film Let's Get Bizee, a debate was held between two three-person panels: one side argued that the recent arrests of minority elected officials was a conspiracy against minorities in power and the other argued that prosecutors were correctly ferreting out corruption. Sitting on the "conspiracy" side was Paul Nichols, Mr. Sanders' chief of staff.
"The attack on minority leader is nothing more than a conspiracy, a conspiracy to thwart and to try to block the growing influence of minority power," Mr. Nichols declared. In a disclaimer, he said his views did not represent those of his boss.
On the other side, panelists like former Assemblyman Michael Benjamin argued that historically, white elected officials like former Queens Borough President Donald Manes and Bronx Democratic boss Stanley Friedman have been charged with crimes too. Mr. Nichols countered by saying blacks have been marginalized for generations and little has changed.
A hand count at the end showed that only three more attendees sided with the "corruption" position than the "conspiracy" one. Mr. Sanders himself, speaking before the audience, concluded that it "was a little bit of both" before elaborating with reporters after the debate. When Politicker asked him about the number of white elected officials that have gone to prison in recent years, including former State Sen. Carl Kruger, Comptroller Alan Hevesi and Assemblyman Brian Mclaughlin, Mr. Sanders insisted minority politicians were still disproportionately targeted.
"The so-called minority population of this state is very small. If it is proportionate, then the vast majority [of arrests] would be whites," he said. "It is close to 55 percent so-called minority and 45 percent white … your math doesn't hold. The proportion around the state is 30 percent, yet they are making up 55 percent of the targets."
Councilman Leroy Comrie, a black southeastern Queens representative , arrived late to watch the debate. As Mr. Comrie was leaving, we asked the chairman of the Queens Council delegation if he believed there was an actual conspiracy against minority elected officials. He equivocated.
"I'm not rejecting any notion," Mr. Comrie explained. "All I'm saying is, it's not my job to be concerned about corruption or conspiracy. All I'm trying to do as an elected official is do right thing and encourage other people to be involved in government. Make people unafraid of government and make sure the government is responsive to people."