Tom Ewell had Marilyn Monroe for The Girl Upstairs in The Seven Year Itch—I have Marge Champion in real life. Eight years ago, when I moved into Manhattan Plaza and learned that half of one of the screen's great dance teams lived directly above me, I slipped a note under her door: "No tapping." She laughed.
On June 3, at the NYU Skirball Center for the Performing Arts, my energetic neighbor, who tippy-toes around her apartment to this day and is poster girl for all 93-year-old dancing divas, will receive The Douglas Watt Lifetime Achievement Award at the 31st Annual Fred and Adele Astaire Awards ceremonies.
There's a certain kismet to this. When 1935's Roberta was remade into 1952's Lovely to Look At, the Rogers-Astaire dancing slot was filled by Marge and her longtime partner (and then-husband), Gower Champion. They do a rollicking "I Won't Dance" with mannequins on wheels in a fitting room—all in one take—and execute one of their most exquisite routines to the haunting "Smoke Gets in Your Eyes," playing it more like a love scene than a dance.
Even earlier, in 1939, when Fred and Ginger got around to telling The Story of Vernon and Irene Castle, Marge made her live-action, major-studio, feature film debut, sitting in a theater box seat next to Ginger while the title characters met. She had one line.
I say "live action" because Marge had already earned her niche in film history. From ages 14 to 16, for $10 a day, she was chauffeured to Walt Disney's studio, where she performed for the 16mm cameras, playing Snow White to a motley crew of animators passing for in-house dwarfs. "They hardly paid me," she told me recently. "I just enjoyed going there because it got me out of high school two or three days a month, but I learned a lot from that experience. For one thing, I learned how to lip-synch to Adriana Caselotti's voice." That high coloratura soprano and Marge's swirls of the skirt came together on the screen as one Snow White. "We were known by the animators as "Marjiana Belchelotti."
Mr. Disney paid Ms. Caselotti $970 and contractually prevented her from ever singing again, lest "the illusion of Snow White" be spoiled. (The one exception: she is the voice heard in Martini's bar while James Stewart prays in It's a Wonderful Life.) Marge, in happy contrast, was asked back for Fantasia's Hyacinth Hippo, and then for Pinocchio's blue fairy. "I'd learned the technique of working with them and giving them all sorts of options so they could make the drawings realistic."
On Dec. 21, 1937, Snow White and the Seven Dwarfs had its world premiere at the Carthay Circle Theater in Los Angeles. "Everybody thought it was Walt's Folly—that it wouldn't go anywhere," recalled Marge, "but it was a huge hit. I was too young then to call him Walt, as everyone else did. He was 'Uncle Walt.' I sat upstairs with my soon-to-be very brief first husband—an animator, a very good one. He did the mushroom dance in Fantasia."
The fluid grace that enamored animators came from her father, Ernest Belcher, billed as the West Coast Dance Master. He glided Mae Murray and John Gilbert through "The Merry Widow Waltz" for Erich von Stroheim, and started Cyd Charisse and Gwen Verdon toward dancing stardom. But his prize student was his daughter, who tagged along on his house calls to Shirley Temple, where he demonstrated moves the child star would make.
No grace whatsoever was required for Marge's week-long fling at Poverty Row westerns. For $75 (makeup and jeans not included), she was dispatched to one of California's lesser-known hills to film Honor of the West opposite Bob Baker, a singing cowboy she never recognized without his ten-gallon hat.
"They made three pictures in three different weeks with three different leading ladies," she said. "That would be television today. They asked me at the outset if I could ride a horse because I was to lead a posse. I said, 'Of course, I can ride a horse. I'm a western girl.' And then I went out and took six lessons. The horse, of course, knew the minute I got on him I wasn't in control and decided to brush me off under a tree. They had to do a second take, which was the only thing that bothered them."
Her then-agent, Henry Willson, thought Belcher an unpromising name for an aspiring actor, and she was Marjorie Bell until she married Husband Number Two.
When she and Gower Champion teamed personally and professionally, a super-successful supper club act at the Mocambo on Sunset Strip put them over the top and into Howard Hughes's line of vision. The kingpin of RKO pitched them a fat contract and promised to remake the Astaire-Rogers films, but they wisely declined and skipped the comparisons, settling instead on the greener pastures of Metro-Goldwyn-Mayer.
Bookending their glory days at MGM were an introductory guest-star cameo in a Bing Crosby vehicle at Paramount, Mr. Music, and a Betty Grable swan-song at Columbia, Three for the Show, in which Jack Lemmon joined the Champions in a remake of Too Many Husbands. "Betty was married to both of them," said Marge. "I was just sitting around like Eve Arden, waiting for her to decide. Either of them was fine with me."
The women's rivalry was to take the form of a ballet duel, to music from Swan Lake. "First they excused Betty and gave me a dance-in, who looked nothing like her but was blonde. They substituted Betty because she had gone to lunch with Jack every date and had those drinks that have the mint in them, and by three o'clock they couldn't use her."
The Champions' fame rests on five films they made over four-year period at MGM—1951's Show Boat, 1952's Lovely to Look At and Everything I Have Is Yours, 1953's Give a Girl a Break, and, wrapping it all up with Esther Williams and some elephants, 1955's Jupiter's Darling.
"We co-choreographed with everybody because Gower knew what we could do, but he was very open," Marge said. "With Bob Alton, we did very long takes. Doing 'Life Upon the Wicked Stage,' Gower was changing clothes and crawling under the camera just so there was not a cut. It took the longest time to film. The next time you see Show Boat, notice it. If we hadn't been stage-trained, we couldn't have done it."
She still remembers Hermes Pan on the boom when she and Gower did "Smoke Gets in Your Eyes" in Lovely To Look At. "Mervyn LeRoy was director of that movie, and he was hilarious. He said, 'I know how to direct Edward G. Robinson, but I don't know how to shoot dance sequences. Have Hermes do it.' He said the same thing at the end of the picture when they did the fashion show. He said, 'Get Vincente Minnelli. He knows how to do it.' So Minnelli did it. That's when I met Liza. She was seven years old at the time, and she came after school to ride the boom with her father. He had all our costumes copied for this little girl, and Liza remembers it."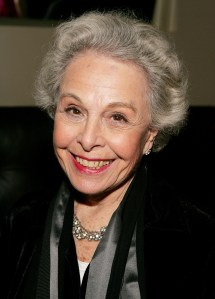 After the movies, the Champions turned to television and then to the open road, touring with Harry Belafonte. By 1960, Gower had found his niche, becoming one of Broadway's great musical directors (Carnival!, Hello, Dolly!, I Do! I Do!), and no small thanks for that should go to Mrs. Champion. During the Philadelphia tryout of Bye Bye Birdie, it was Marge's idea that Dick Van Dyke sing the hoped-for showstopper, "Put on a Happy Face," to a teenager sad about her army-bound Birdie.
After the Champions divorced in 1973, Marge went the choreography route, winning an Emmy two years later, steering Maureen Stapleton and Charles Durning through TV's Queen of the Stardust Ballroom (later, Broadway's Ballroom).
Her most recent Broadway appearance was at the age of 81, in 2001's Follies, in which she partnered with Tony-winning choreographer Donald Saddler as the ballroom marrieds. Following the run, the two rented a room once a week and continued the dance, for their own health and amusement. In 2009, Douglas Blair Turnbaugh made a 21-minute documentary short about the couple, Keep Dancing.
"I had my 20th birthday party in Al Hirschfeld's apartment, and we remained friends all our lives," said Marge. "What I learned from Al was if you're lucky enough to get to these later years, you're only going to be able to do certain things, but, if it's your passion, keep it up. And that's the metaphor for Keep Dancing. You have to be smart about everything. You can celebrate every decade for what it gives you, not for what it takes away."
editorial@observer.com