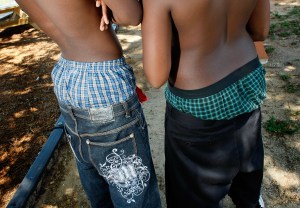 Stop the sag!
Wildwood wants visitors to pull up their pants, put on shirts and slip on some shoes while on the boardwalk.
Wildwood Mayor Ernie Troiano Jr. told The Press of Atlantic City, he's tired of hearing complaints about people who "walk around with their butts hanging out." He feels that baggy pants are taking away from the wholesome image of the boardwalk and he wants to make it illegal.
Under the new regulations, people will be required to wear shirts that cover "the breast and/or pectoral area" after 8 p.m. and until 5 a.m.
The waist band of their shorts, swim-trunks, pants and/or skirts can not be lower than three inches below the waist at any time. Foot protection will also be required at all times for safety reasons. Violators of the measures will be escorted off the boardwalk and could be issued at $25 fine.
Many people have mixed reposes to the new possible regulations. "It's a personal choice . . . a personal freedom," Justin Daily, 17, of Villas, told Philly.com."I don't follow trends, I wear what I want to wear, how I want to look. I shouldn't be told what not to wear either."
"People used to dress up to go to the boardwalk … It was nice," Mary Lampe, 76, of Drexel Hill told Philly.com."I think it's a good idea to bring some of that kind of class back to it."
The proposed rules are contained in a new city ordinance, up for a public hearing June 12, titled "Establishing decency standards on the public Boardwalk."