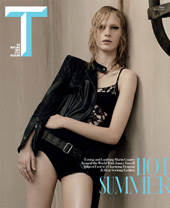 The summer travel issue of T, the Times's luxury magazine that was included in this Sunday's paper, drew some reader criticism, public editor Margaret Sullivan noted today in a blog post.
The cover showed a rather slender model dressed in a lace one piece, with wet hair and a leather jacket slung over one shoulder and the accompanying feature, which was a round-up of models in black bathing suits and  leather cover ups, promoted readers to declare the model too thin and too young, and the feature too bondadge-y.
"Where did you get this child for your cover? The photo represents kiddy porn and I object," wrote Jane Sherman of Westport, Connecticut. "I'm a long time print subscriber to The New York Times and I don't want to read a newspaper that's moving into sleaze for dirty old men."
If nothing else, that seems to be an original way to describe the paper of record.
Another reader, Margaret Wheeler, who Ms. Sullivan notes "lives in France and described herself as a former writer and producer at ABC News" objected to the timing of cover.
"As a woman, I was infuriated to see the current cover of T Magazine, which featured an anorexic-looking model," Ms. Wheeler wrote. "The additional photos in the shoot featured in the magazine were of similar super-thin models — and this on Mother's Day weekend, when we should be celebrating some more realistic picture of womanhood."
We didn't know that that was the point of Mother's Day (and, as a side note, it seems that Fête des Mères, the French equivalent of the holiday, is actually celebrated on 26 Mai). But fair enough.
T editor Deborah Needleman answered the charge, noting that the cover model, while thin and young, is actually really smart.
"Julia Nobis, the model, is a 20-year-old undergraduate studying medicine," Ms. Needleman responded on the public editor's blog. "She is rather thin for my taste, as most models are, and I considered adding some fat to her with Photoshop, but decided that as it is her body, I'd let it be."
Additionally, Ms. Needleman noted that despite the fact that black bathing suits and leather jackets might be slightly risqué, they are a far cry from Fifty Shades of Grey-level S&M.
Ms. Sullivan, for her part, wrote that while she understands the readers objections, she found the photos to be "arresting but pretty mild, especially by today's fashion magazine standards."