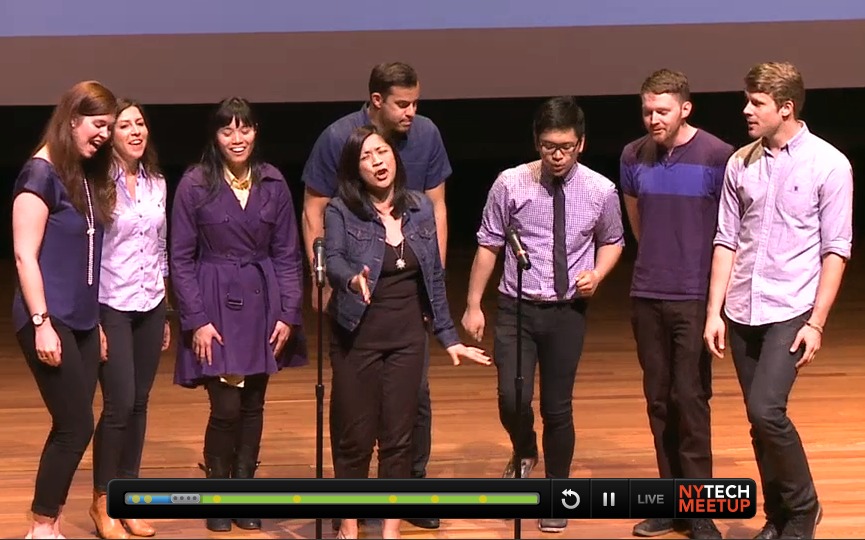 Hey, did we ever profess concern that the tech scene might be getting a little too bro'd out, selling its dorky soul for Teslas and trend pieces about Bitcoin millionaires? We'd like to retract that complaint after what happened last night at New York Tech Meetup. An a cappella group of eight techies, calling themselves NYC Sharp, "demoed." (After the ringleader said their name, one guy made a little hashtag with his fingers.)
That's right: Silicon Alley now has its very own Rockapella.
In matchy-matchy shades of purple, they snapped away and sang a cover of "You and I" — with all the lyrics replaced to be wooing / stalking an investor, rather than a lover. Sample lyrics: "You've got everything I'm looking for in a VC, I'd give my firstborn child if you'd invest in me." Oh, and also: "There's only three men I'm gonna serve my whole life, it's my daddy, my investor, and Jesus Christ."
The whole song closes with, "This time I'm not leaving without you."
Do we need to have a little chat about boundaries, guys? Because this is how restraining orders happen.
You can see the whole performance about six minutes into this recording, plus here is video evidence, in the form of a Vine:
NYC# rocks the house with a plaintive ode to VC investors #NYTM #nyc vine.co/v/b2Xnrintne5

— Rich Kelley (@rpmkel) May 7, 2013
Anyway, IBM then showed a movie made with single atoms. This is the future, guys.