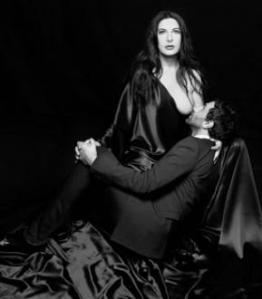 Last we checked in with Marina Abramović, the Montenegrin grand dame of performance art had just picked up a $2.65 million two-bedroom apartment in Philip Johnson's Urban Glass House.
And now, the other shoe drops: Ms. Abramović has sold her Hudson Square townhouse to Italian designer and Givenchy creative director Riccardo Tisci.
Ms. Abramović and Mr. Tisci are no strangers—Givenchy hosted the closing of Ms. Abramović's "The Artist is Present" show at the Museum of Modern Art and Mr. Tisci dressed Ms. Abramović for the Oscars
And now, Ms. Abramović is returning the favor: she sold her 4,600-square foot townhouse at 54 King Street to Mr. Tisci for a bit over $3 million, according to city records.
At $666 per square foot for the unlisted sale, divided between two units, able to be fully reclaimed by Mr. Tisci, the price is "way below market," according to one broker who does a lot of downtown townhouse sales. Especially when you compare it to the last time it sold, back in 2011, when the price was over $5.3 million. (Oddly, the sale was to an LLC that does not appear to be affiliated with Ms. Abramović, but hers is the only name on the most recent deed. There's also an added wrinkle: the most recent sale was marked as a co-op, despite the fact that the property is a townhouse, so it's possible that only a portion of the building sold.)
Usually sales this far below market take place between family members. And while Ms. Abramović and Mr. Tisci may not be blood relatives, they have shared milk: when Mr. Tisci guest edited an edition of Visionaire, he included a photo of Ms. Abramović breastfeeding him. "The result," wrote the scribes at Blouin Artinfo, "is a profound image, with a Madonna-esque (the Virgin Mary, not the queen of pop) Abramović and a serene Tisci, content from his 'nourishment.' "