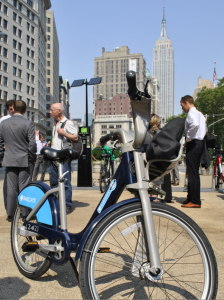 Citi Bike is up and running (well, biking) in select areas of Manhattan and Brooklyn, but the highly anticipated bike sharing program might have a stick in its spokes.
According to the New York Post, Citi Bike reported its first bicycle theft just one day before the program officially launched.
A crafty culprit in Kips Bay was able to make off with one of the cobalt blue rental bicycles, worth $825 apiece, while a nearby crew worked to install a load of bikes into a rack at Second Avenue and 25th Street. Workers were alerted to the theft by a passerby and flagged down police after an unsuccessful chase.
A spokesman for Citi Bike told the Post that he could not comment on the theft.
To be fair, the bikes had not yet been locked down; Citi Bike's locking mechanism has been called "pretty much bombproof" by a senior policy adviser at the Department of Transportation.
The bike sharing program has generated an equal measure of excitement and apprehension in New York, with Mayor Bloomberg praising the initiative as a much-needed alternative to summer subway traffic, while naysayers have aired a number of concerns, including "the ability of paramedics to access buildings in emergencies" and "dogs' attraction to the docking stations as an ideal place to relieve themselves," the Daily News reported.
Perhaps this was one frustrated New Yorker's reaction to not receiving his membership card on time? According to Gothamist, a little less than 3 percent of the 11,000 people who signed up for the service have not yet received their fob keys due to "postal service delays" and "incorrect or incomplete addresses."
Or maybe one stealthy opportunist just really didn't want to shell out for a new set of wheels.
Update: Dani Simons, Director of Marketing and External Affairs for NYC Bike Share, said the bicycle has been recovered. Yay!