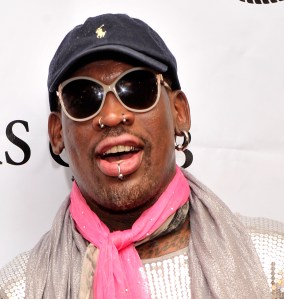 At Dennis Rodman's 52nd birthday party at Cheetahs Gentlemen's Club on Monday evening, the flamboyant former basketball star slunk from one designated VIP section to the next, protected by bouncers and surrounded by throngs of obsequious followers. (They don't call him "The Worm" for nothing.)
One can't blame Mr. Rodman—wearing a relatively tame ensemble of bellbottom jeans, an unbuttoned white linen shirt, a baseball cap and sunglasses—for wanting his privacy.
Since traveling to North Korea with Vice in February to meet Kim Jong-un (whom Mr. Rodman now considers a friend), he has become a kind of accidental ambassador, having played a pivotal role in what may go down as the weirdest political event of the 21st century.
"I wasn't a Dennis Rodman fan until he went to North Korea and then asked for the release of Kenneth Bae," said Cheetahs owner Sam Zherka, referring to the American citizen currently detained in North Korea, who was recently sentenced to 15 years of hard labor.
"Maybe he could accomplish what our government failed to accomplish."
Basketball diplomacy, however, was not on Mr. Rodman's mind on Monday. We managed to swing a couple of encounters with the NBA Hall of Famer, who understandably seemed more intent on having a good time than discussing politics, despite his plans to return to North Korea in August.
"How's it goin', brother?" Mr. Rodman asked the Transom upon his arrival. "Shit, I haven't had a drink in three days. Time to get going."
Mr. Rodman has been celebrating his birthday for about three weeks now. In early May, there was a Las Vegas pool party; next week, he'll make a stop in Toronto to further fête his 52nd. New York, it turns out, was supposed to be the climax, according to Mr. Rodman's agent, Steve Simon.
"He just wanted to have a kick-ass party," said Mr. Simon. "He loves New York."
One dancer, who called herself Sabina, told us that she had never seen Cheetahs more packed. And what did she think of Mr. Rodman, we wondered?
"What is he?" she asked, correcting herself: "Where is he?"
We weren't exactly sure how to answer either question.
Another dancer, named Sandra, if we remember correctly, thought the party was great for the club. Of course—but what did she make of Mr. Rodman's sketchy relationship with the 29-year-old dictator Kim Jong-un?
"Oh yeah … I heard about that," she said noncommittally, rubbing our lower back. "So, do you want a dance?"
We declined, moving closer to the glass-enclosed VIP room in which Mr. Rodman had recently installed himself. Long after our first, ephemeral encounter with the man of the hour, we finally finagled our way inside to have another audience.
As it turned out, he wouldn't speak with us. But he had just eaten a lot of sushi, and it seemed that he'd put back more than a few, so his guard was down. We took a moment to watch him.
"No fat here! No fat here!" Mr. Rodman proudly exclaimed to no one in particular, patting his bare, chiseled, tattooed belly.
His did not look like the body of a 52-year-old man.