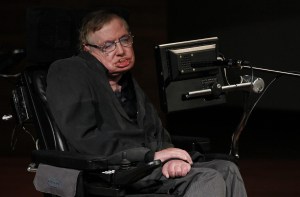 The blogosphere went wild this week trying to get to the bottom of British physicist Stephen Hawking's cancellation of a trip to Israel next month. Though Hawking had decided not to attend the fifth annual Israeli Presidential Conference, where he was scheduled to be a key speaker, "based on advice from Palestinian academics that he should respect the [academic and cultural] boycott [of Israel]," it was initially reported that he wasn't coming due to ill health.
It was easy to believe the latter. First of all, Hawking, 71, has a degenerative motor neuron disease related to ALS (Lou Gehrig's disease). He is virtually paralyzed and undoubtedly suffers from various related ailments. Secondly, Cambridge University's communications department either hadn't been informed of Hawking's reason for backing out or was trying to cover it up. After all, it doesn't reflect well on them that Hawking accepted the invitation and then changed his mind mere weeks before the scheduled event.
Once it became clear that Hawking has clearly and simply aligned himself with Israel's enemies in the Boycott, Divestment and Sanctions (BDS) movement, all hell broke loose on Facebook, particularly among those who had apologized for jumping the gun and believing that the great, wheelchair-bound genius was anti-Israel. Feeling angry, then guilty, then betrayed, these people went on the attack. This is not to say — as Arab propagandists have been asserting since then — that all of them crossed the line into inappropriate comments. On the contrary, most of the criticism lodged at Hawking was political and ideological. Only a handful made nasty remarks about his physical disabilities.
Many called attention to the fact that Hawking owes his ability to function and produce important bodies of work to Israeli inventions. As Shurat Hadin — The Israel Law Center's Nitsana Darshan-Leitner, an attorney who represents victims of terrorism — stated: "Hawking's decision to join the boycott of Israel is quite hypocritical for an individual who prides himself on his whole intellectual accomplishment. His whole computer-based communications system runs on a chip designed by Israel's Intel team. I suggest if he truly wants to pull out of Israel he should also pull out his Intel Core i7 from his tablet."
She is right, but it is not only Hawking whose life would be virtually impossible without Israeli innovations. In fact, every field imaginable has been enriched by Israeli breakthroughs. Anyone calling for boycotts of Israeli merchandise and ingenuity would do well to reconsider. Indeed, shunning products made in Israel is tantamount today to having an utterly impoverished existence, if not a death wish. And though radical Muslims may worship martyrdom, even they are not keen on forfeiting worldly necessities while still on earth. Certainly no American or European could manage for five minutes without Israeli technology and know-how in computers, appliances, agriculture, energy, economics, cosmetics, defense, optics and, of course, medicine. The list, like the hypocrisy, goes on.
But such double-dealing on the part of BDSers is not restricted to the realm of material goods. Far worse is their double standard where human beings with impairments are concerned. Arab societies, kept in the Middle Ages by their religious and political systems, treat their brethren with birth defects or other imperfections like outcasts. Perpetual intermarriage among first cousins is common, which leads to many congenital deformities in the first place; equally prevalent is the shame that families feel when faced with what are considered flawed offspring.
A poignant case in point is that of three-and-a-half-year-old Mohammed al-Farra, who was born in Gaza with a genetic disease. Because of the seriousness of his condition, he was rushed to a children's hospital in Israel, where it became necessary to amputate his hands and feet. His mother abandoned him when her husband (a cousin) threatened to take another wife if she refused. The only person who has stood by him is his grandfather, who continues to live with him at the hospital. There, the little boy, who knows no other home than the wing where he has been raised, has been given a mini-wheelchair and is being taught how to use Israeli prostheses. His Israeli doctors have not only been treating him for all these years, but have raised money to cover the costs of his care — something the Gaza authorities have not agreed to do. This is not surprising, given that his own parents have disowned him as well.
The Palestinian academics who are delighted to have such a renowned figure legitimize their cause have failed to mention that had Hawking hailed from their home towns, he likely would have died long ago from neglect, societal scorn, and inadequate medical assistance. It is this kind of black hole that Hawking ought to be contemplating these days.
Ruthie Blum is the author of To Hell in a Handbasket: Carter, Obama, and the 'Arab Spring.' This column originally ran in Israel Hayom.