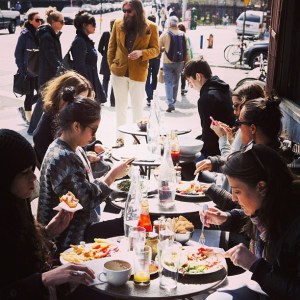 An obscure law that has been preventing Brooklynites from enjoying mimosas and pancakes before noon may be on the outs.
Williamsburg councilman Steve Levin has made it his mission to rescind a 1970s era law that has been keeping the borough sober on Sunday mornings. He's introduced a bill, that is currently still in committee and will then go before city council, to strike down the law.
"The time is now for the war on brunch to end," said Council Member Stephen Levin. "Meals have been lost on both sides and the uneaten stack of pancakes continues to grow.  I am certain this bill will go over-easy with New Yorkers hungry for common-sense brunch regulations and hopeful that the bill will move through committee and be passed by the full Council before more people have to sacrifice brunch for lunch."
Community Board member Tom Burrows brought the law into the spotlight when he began encouraging the city to crack down on the restaurants serving outdoor brunch before high noon. Mr. Burrows believes that Sunday outdoor brunch prevents people from getting to church.
This prompted city police to begin writing tickets and fining restaurants that are disobeying the law. Restaurants such as Five Leaves, a Brooklyn brunch staple, have received fines and begun to hold off their brunch service until noon.
Some say that the struggle is a symptom of gentrification. The long residing Polish immigrants of Northern Williamsburg feel that the Sunday brunch set are blocking their routes to church while the hipsters want to nurse their hangovers outside in the beautiful weather.
"As many lifestyles as there are in the universe, we have them in Brooklyn and then some," Marty Markowitz, the borough president, said to The New York Times,  "and you have the right to go to church and the right to sit outside people-watching and have bloody marys."
Even the local pastors don't see brunch as a threat to the church. "Probably the old ladies who like to go to Mass every Sunday morning, all dressed up, maybe they complained," Rev. Antoine Noradounghian, pastor of St. Ann's Armenian Catholic Church said to The Times, "but I like to see young people enjoying their Sundays and whatever they're doing."