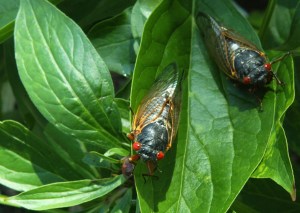 They're hereeee…
Thousands of cicadas have been spotted in Staten Island over the last few days, sending residents into a Twitter frenzy. Dozens of photos, videos and tweets have been posted chronicling the invasion of the insects.
Brood II or the "East Coast Brood" returns every 17 years to mate and drive humans crazy with their incessant chirping. They are able to hatch when the earth is above 64degrees Fahrenheit and after this past weeks heat wave and humidity, it's no wonder the sightings are beginning.
While the invasion is expected to impact the entire East Coast, Staten Island is said to be hit hardest. John Cooley, a research scientist at the University of Connecticut, told the Wall Street Journal that if this year is anything like 1996, then Staten Island should expect to be overrun with bugs.
While most residents are strapping in, buying earplugs and trying to avoid the bugs, some are finding interesting uses for them. Apparently cicadas are high in protein and can add a nutty flavor to meals, making them suitable for eating and cooking. If this sounds appealing, there are plenty of recipes on how to turn the critters into dishes.
If not, sit tight and try to drown out the noise. Don't worry, this is something New Yorkers happen to be good at.
http://storify.com/alyssaberlin/cicada-invasion