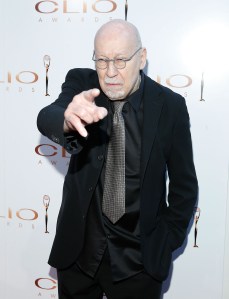 The 54th annual CLIO Awards ceremony, held last week, seemed to straddle some kind of line between innovation and industry nostalgia—much like the ads they were celebrating. Instead of The Waldorf Astoria, they were held at the Natural History Museum. Instead of Paul Newman, who gave the keynote speech on a recent episode of Mad Men, the ceremony was hosted by Modern Family's Eric Stonestreet. And instead of dinner, there were hors d'oeuvres during a pre-ceremony cocktail hour.
But some things never change.
"What this night is really about is getting through these awards as fast as we can so we can all go drink again," Mr. Stonestreet said, to cheers.
Advertising legend George Lois, who is said to be the inspiration for the character of Don Draper—a charge he denies with Draper-like passion—won the lifetime achievement award, presented by Tommy Hilfiger.
Mr. Hilfiger explained that he was just a young kid with dreams of selling preppy clothing to the masses before Mr. Lois put him on the map with an eye-catching billboard in Times Square, where Mr. Hilfiger's name was featured alongside those of already established designers such as Ralph Lauren, Perry Ellis and Calvin Klein.
"You can be cautious, or you can be creative, but there is no such thing as a cautious creative," Mr. Lois said. The legendary adman, who has also created campaigns for outfits like MTV and ESPN, among many, many others, takes credit for advertising's concept of "The Big Idea."
"My concern has always been with creating images that catch people's eyes, penetrate their minds, warm their hearts and cause them to act," Mr. Lois said. "The best of us, whose creations can be thought of as art, are cultural provocateurs, infused with subversion against all kinds of authority—even God."
There was very little subversion on this night, however. Like most awards ceremonies, it was all about the shoulder-patting.
"Being in a room with the world's best creative people that make content that inspires people to not just change their lives but change the world—it's an honor to be here with you guys," said Will.i.am, when accepting an honorary award for being a content creator and visionary.
The rapper, who teamed up with Coca-Cola to launch Ekocycle, a brand that repurposes Coke bottles, has been seemingly everywhere recently. Earlier in the day, Mr. i.am had been at The Wall Street Journal. "I was kickin' it with Rupert Murdoch," he told the room. "He's cool."
But the big winner of the night was Coca-Cola, a classic American product that had apparently gotten away from its roots. The brand won multiple awards, including an inaugural one for Brand Icon of the Year. There was an exhibition that displayed the brand's bottles and advertisements over the years, and the bars, which were setting up for the after-party in the Planetarium's Hall of the Universe, featured a selection of Coke, Diet Coke and Coke Zero, all artfully arranged. (No one dared ask for a Pepsi.)
As the Transom sat down on the edge of the dance floor, next to a display of moon rocks, to drink that classic American soft drink—infused with Don Draper-approved bourbon—we noticed that a crowd had surrounded our bench. It turned out that R&B sensation Miguel was standing above us (though he thankfully did not kick us in the head, as he did a fan at this weekend's Billboard Music Awards), singing to a crowd that was Instagraming his every move.
In advertising, that would be known as a Big Idea.