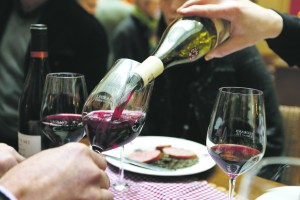 Hey, Burgundy fans: What's the best Beaujolais you've had lately? If I've lost you entirely, it's because I'm doing it on purpose to prove several points that I'll clear up now, starting with this: Beaujolais is the best Burgundy you will ever pay so little for, and it's exactly what you should be sipping this spring and summer. Beaujolais is also, in my opinion, the most misunderstood wine region in France, thanks to the unfortunate fact that it's technically part of Burgundy.
As Burgundy's southernmost region, Beaujolais is distinctly different from its neighbors to the north, beginning with the fact that Beaujolais wines are made exclusively with the Gamay grape, while Pinot Noir is the reigning variety of Burgundy "proper." It's also worth mentioning that it's a lot warmer in Beaujolais than in Burgundy, which means the wines are fruitier and friendlier in general.
In fact, Beaujolais is so completely autonomous from Burgundy that it even has its own ranking system for quality. But you probably don't think of "Beaujolais" and "quality" in the same sentence. That's no doubt because of that pesky "party wine" known as Beaujolais Nouveau, which makes its debut on the third Thursday of every November to celebrate the grape harvest. Beaujolais Nouveau is not meant to be a serious or long-lasting wine; it's meant to share a toast to good fortune, and then move on to better stuff. The problem for Beaujolais is that most people simply move on to another region entirely, instead of pursuing real Beaujolais from the so-called top crus, the ones that are so flavorful, concentrated and delicious that they're often compared with Burgundy, even though they command only a fraction of Burgundy prices.
Now that we've cleared up the confusion between Burgundy and Beaujolais, it gets even more confusing because the best Beaujolais—the ones that hail from 10 hillside villages in the northern part of Beaujolais—doesn't use the word "Beaujolais" on their labels. Why? Because the French love to torture us! While those wines are categorized as "Cru Beaujolais," vintners list only the name of the village where the grapes were grown.
You've probably seen some of them while wine shopping but had no idea what they were. The 10 crus are: Brouilly, Chénas, Chiroubles, Côte de Brouilly, Fleurie, Juliénas, Morgon, Régnié, Moulin-à-Vent and St-Amour. What sets these wines apart from even very good Beaujolais-Villages (made from grapes grown within the 39 villages that comprise the region) is their intensely fresh flavors of just-picked berries and cherries. But they go deeper in flavor, too, often toward dark chocolate, without the bitterness. These wines tend to be soft and easy-drinking, and they're also easier to pair with food than, say, a brawny Cabernet or Bordeaux. My favorite part of all is that their refreshing acidity makes them perfect for chilling, as you'll readily see at French bistros in warm weather, where you're guaranteed to find a bottle of Brouilly in the ice bucket alongside Champagne.
Journalist, sommelier, educator, author and raconteur Anthony Giglio is one of the most entertaining wine, spirits, food and lifestyle authorities on the planet.
Recommended Wines:
2011 Château de Pizay Morgon
If you can't get to the Château de Pizay, an estate dating back to the Middle Ages that features a four-star hotel and restaurant, this wine will put you in a Beaujolais state of mind—if not in body. Morgon crus are known for their ability to age, which accounts for the darker, black fruit aromas and flavors in this silky, moderately tannic wine that's begging to be paired with rillettes slathered on a baguette.
2011 Domaine Diochon Moulin-A-Vent Vieilles Vignes
Bernard Diochon makes wine just like his father did when he founded the winery in 1935, employing a light touch that lets the soil inform the character of grapes that grow on vines upward of 100 years old. The resulting wines are deeply minerally, intensely focused, with fresh berry fruit and formidable tannins.
2011 Chateau de la Chaize Brouilly Cru Beaujolais
From one of the oldest, most historic (and innovative) estates in Brouilly, the largest cru in Beaujolais, comes this silky, supple sipper brimming with berry fruit and bright acidity.
2011 Domaine des Grands Fers Fleurie
Lovely violet flower aromas are telltale characteristics of Gamay from Fleurie (which means "blossomed"), leading to flavors of candied cherry, cranberry and a hint of lavender.
2011 Paul Janin et Fils Moulin-a-Vent Clos du Tremblay 
From old-vines Gamay—between 80 and 100 years—comes this spicy, peppery, elegant red kissed with raspberry fruit, soft tannins and a minerally, moderately tannic finish.
2010 Georges Duboeuf Saint-Amour 
While easy to share with a loved one, this full-bodied powerhouse of a Gamay is not just for Valentine's Day. It's delightfully spicy, chalky and chewy, and as such best enjoyed paired with something formidable.