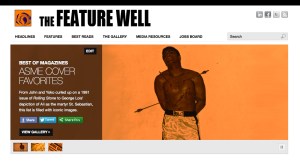 Last week, we reported that Pacific Standard digital director Nick Jackson is starting a new website called The Feature Well that will be a "smarter version of MediaBistro." But maybe Mr. Jackson should have done some more research before he bought that domain name-the name, The Feature Well, is remarkably similar to Featurewell.com, a syndication marketplace service that represents writers and publications (including The New York Observer) so that editors can purchase and republish stories.
"I was surprised to see that someone had ripped off our name," FeatureWell founder and CEO David Wallis told OTR. "Either Nick Jackson is arrogant or stupid. Maybe both."
Mr. Wallis is currently drafting a cease and desist letter and plans to give Mr. Jackson 14 days to change the name of his site, or else face legal repercussions. As for new names for Mr. Jackson's site, Mr. Wallis has a few suggestions: "He should try Romeneska or TheMediaBistro," Mr. Wallis said.
Mr. Jackson, for his part, hadn't heard of FeatureWell.com until a couple weeks ago, long after he registered his domain name.
"It's an interesting service, but it's something completely different than what I'm trying to do, so I don't know why [Mr. Wallis] would be upset—or that my site is even worth him spending time thinking about," Mr. Jackson said.
Mr. Jackson said that The Feature Well will be a resource-heavy website that eventually includes an archive of magazine cover designs, professor-annotated syllabi from media classes, job boards, advice on pitching, a collection of mastheads and "other very basic resources I wish would have been around when I was trying to make connections and get started in this business."
"But what is The Feature Well?  It's sort of TBD," Mr. Jackson told us over email last week. "But the short version is that I want this to grow to be a smarter version of MediaBistro, without all of the angry and sarcastic Betsy Rothsteins of the world."
If you want a smarter version of MediaBistro, domain name drama might not be the best way to start. On the other hand, making enemies is one way to put yourself on the map.