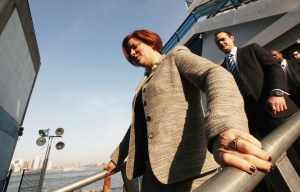 The rivalry between two mayoral contenders–Christine Quinn and Bill Thompson–is starting to reach a fevered pitch.
For the uninitiated, the spat began yesterday morning when Mr. Thompson, a former city comptroller, announced he opposed the controversial Upper East Side waste transfer station. Ms. Quinn, the City Council's speaker and a key supporter of of the plan, reacted by declaring  Mr. Thompson was advocating the return of "the days of environmental racism."
The Thompson campaign swiped back, arguing that local public housing residents were disproportionately affected by the 91st Street station, and that it wasn't a movement backed by entitled rich people, as Ms. Quinn suggested.
"We all know the Speaker doesn't have much patience for principle, but now we know that when she loses control she can't be bothered with the facts either," Thompson strategist Jonathan Prince sniped, mocking the speaker's infamously quick temper.
A "stunned and shocked" Mr. Thompson followed up with a press conference today demanding an apology. "You have to ask yourself why would someone utter the phrase environmental racism. Is it anger?" the candidate, clearly not shying away from the controversy, asked. "What prompted that?"
Ms. Quinn, not backing down either, subsequently released two separate rounds of statements from supporters of the trash station. (One of the statements claims she never called Mr. Thompson, who is black, an "environmental racist.")
"It is deeply disappointing … that Bill Thompson would very conveniently, seek to upend our successes in order to gain votes. We cannot, and should not expect our Latino and communities of color to continue to bear the brunt of these types of facilities, while affluent communities get a pass on doing their fair share," Bronx Councilwoman Maria del Carmen Arroyo said, for example. "Shame on Thompson!"
"I want anyone who is against the waste management plan to look the children in my district in the eye and tell them they don't matter," Bronx Councilwoman Annabel Palma piled on.
"I am appalled at the comments made by Billy Thompson," Brooklyn Councilwoman Diana Reyna jabbed.
And so on.
Politicker has reached out to Mr. Thompson's campaign to see if they have any response to this latest salvo. We will update when they inevitably do.