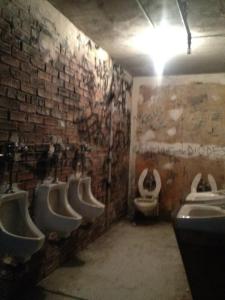 This morning the Metropolitan Museum of Art offered journalists an early look at its latest Costume Institute show, "PUNK: Chaos to Couture," which opens tomorrow. The show earned mixed reviews on social media, but nearly everyone took an opportunity to comment on the fact that one room features a recreation of the bathrooms at CBGB. Which is kind of amusing, if unexpected.
"CBGB toilets are installed complete with ciggie butts. Met will never be the same again," wrote Eric Wilson of The New York Times.
"Max Fish is way better," opined Walter Robinson.
There was also some discussion of smells and oral sex that may or may not have happened there.
We've reached out to the museum for comment, but they said they're busy preparing for the Costume Institute Gala tonight. Fair enough.