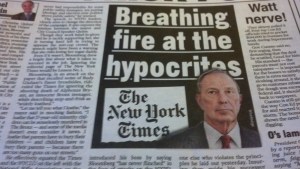 Yesterday afternoon, Mayor Michael Bloomberg fiercely condemned The New York Times for its lackluster coverage of the shooting death of 17-year-old Alphonza Bryant and its editorials critical of the NYPD's controversial stop-and-frisk policy. "Do you think that if a white, 17-year-old prep student from Manhattan had been murdered, The Times would have ignored it?" Mr. Bloomberg sarcastically asked himself. "Me neither."
Several of The Times competitors took notice.
"Take that, New York Times!" New York Post columnist Michael Goodwin declared in an op-ed piece prominently featuring The Times' logo. "And thank you, Bloomy."
Both the Post and the Daily News also noted that they, unlike The Times, had covered Bryant's death in full.
"The Bryant killing was covered by several New York media outlets, including The Post," read the Post's separate story on Mr. Bloomberg's speech. And, in its print and its online reports today, the News reprinted an image screenshot of the paper's original story.
Furthermore, both tabloids boosted Mr. Bloomberg in editorials.
"This is a mayor who is properly fed up," the News argued. The Post advised, "New Yorkers had best take note of Mayor Bloomberg's strong words yesterday."
For its part, The Times strongly defended itself against Mr. Bloomberg's broadsides yesterday. "The Times aggressively covers violence in the city's neighborhoods, and to select one murder as evidence to the contrary is disingenuous," company spokeswoman Danielle Rhoades Ha said in a statement. "His claim of racial bias is absurd."
Not everyone is buying that argument, however. Mr. Goodwin suggested the billionaire mayor buy the paper himself, as he reportedly once speculated about doing. That way, he said, Mr. Bloomberg could reshape The Gray Lady's editorial board to be more in line with his law-and-order beliefs.
"Well, there is also another thing he could do. Bloomy might reach into his vault and buy The New York Times," Mr. Goodwin wrote. "If nothing else, he could give it an editorial page worth reading and worthy of New York."