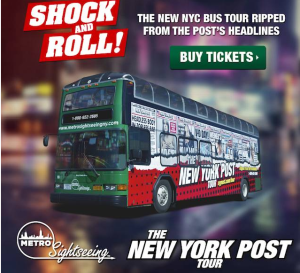 Remember back in March when The New York Post unveiled their bus tour of the city? Well, the Times is on it! The New York Times' William Grimes hopped aboard the TMZ and The New York Post bus tours and reviewed the tabloid takes on New York for the paper of record.
And Mr. Grimes seems to have had a remarkably similar experience to Barry Paddock, who reviewed the tour for The Daily News back in March. Both Mr. Grimes and Mr. Paddock found the Post tour kind of dull and mostly empty.
"The day I boarded, the weather was unseasonably cold and rainy, which may explain why the double-decker bus, with open roof, carried only two people in addition to me. The passenger list was, in full, Ira and Phyllis Rosenkrantz, Bronx natives now residing in Rockland County," Mr. Grimes wrote. "Though it might seem strange, I felt a crying need as the tour went on: more New York Post. And how about a few mob rubouts, or sex and drugs and rock 'n' roll, the tabloid trifecta?"
Just like the News review!
"I was one of just seven suckers aboard the New York Post's overpriced new Headlines Bus Tour on a recent afternoon.The much-touted tour of Manhattan that promises gore and sordidness for the premium price of $49 claims it is 'not for the squeamish or faint of heart,'" Mr. Paddock wrote. Guess that attendance has dropped off since the News ran their review in March. "But all I got was a standard tour of familiar landmarks with references to a few past Post headlines thrown in."
It's nice to know that the News and the Times can agree on something (albeit with a different style of prose): the Post tour is boring and nobody is even going!
Such bad food, and such small portions.