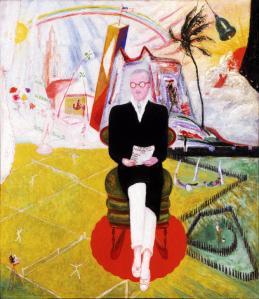 Since it's a pretty nice day out, I figured it might be an okay time to share some fairly depressing news, which you may have just read in the headline above: there are now less than 10 full-time art critics working at newspapers and magazines in the United States. This comes to us via Deborah Solomon on her recent WNYC appearance. (It seems that Chicago's edition of Time Out laid off its art critic last month.) At least we can all celebrate that the majority of the survivors work in New York.
Ms. Solomon conveyed the sad news as part of a sweet and thoughtful "little prayer for art critics" on air. You can listen to it at the bottom of this post.
Thanks to Walter Robinson for sharing Ms. Solomon's spot on Twitter.
I'm going to go have a drink right now.
Update, 4 p.m.: After posting this and receiving a number of helpful notes from readers, it's clear that I should have included an explanation as to why Ms. Solomon's number sounds about right to me, and a few thoughts about the implications of all this.
The most important question: what is a "full-time art critic?" I'm thinking here of critics on staff at a general-interest outlet, regularly writing bylined articles only about visual art with few, if any, other editorial responsibilities—the model here being the four regular art critics of The New York Times, who generally limit their art criticism, with a few exceptions, to the pages of their newspaper, and whose work in essence serves as a record of art in the city. (It's also a question of economics: how many outlets are there that respect art critics enough to pay them a wage—and yes, provide health insurance—that allows them to focus almost completely on that one job, without having to take on other positions and projects.)
There are clearly many more than 10 critics who are making their living by writing criticism full-time, writing and editing for a variety of outlets. And if you're including people who write or write and edit for specialized art publications, you're dealing with a whole lot more.
But if you are counting in the admittedly strict way I'm thinking of above, you're dealing with a very limited pool that is continually growing smaller. In recent years Newsweek/The Daily Beast, The San Diego Union-Tribune, Time Out Chicago and others have let their art critics go. Some papers and magazines now have arts critics who cover a variety of disciplines and/or have severely limited the scale of their art coverage. (Think of the space for art criticism in the Village Voice today versus 20 years ago.)
What is disappearing is not the art critic—you could argue that, with the expansion of websites and social media, there are now more than ever before—but the tradition of a regularly recurring voice in a widely circulated newspaper or magazine or even alternative paper: people who have the opportunity to expose a wide variety of art to a broad audience on a continual basis.
That's a sad and very real change. But as The Observer's museum critic, Maika Pollack, pointed out, there is a long and rich tradition of poets, painters and novelists writing strong art criticism when the mood strikes, in specialized and general-interest venues. Part-time art critics are sometimes the best art critics, bringing ideas from other fields and experiences. (Arguably the best specialized art critic in New York—at least the most exciting—is also an art dealer and an artist.)
A tradition is dying out, but other models—some new, some old—provide reasons to be optimistic.