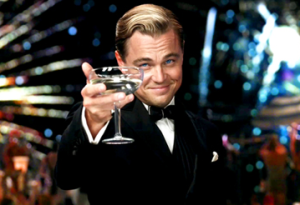 There were plenty of times during the seemingly never ending The Great Gatsby movie that we wanted to reach for our phone because, ugh, it was so boring. Now, there's a terrible second-screen experience to enjoy the expensive Heineken commercial called the "Gatsby Green Light."
It's a single-serve website that flashes a green light…just like the green light at end of Daisy's East Egg dock! Presumably, you're supposed to hold it up during the film to piss off everyone. For context, Gatsby reaches longingly at it because he's searching for a better script. Ha, ha, no, just kidding.
Rather, Gatsby tries to grasp the unattainable light because it reminds him of his love and the American dream or some shit. At least that's what SparkNotes claims.
Anyway, save your $11, put that Lana Del Ray song on repeat for two and a half hours, and you won't have to deal with Leo's smarmy face. 
(H/T Kevin Roose)