About a decade ago, the painter Eric Fischl was in Aspen visiting one of his most supportive collectors, and they started arguing about contemporary art. As Mr. Fischl tells it in his new memoir, Bad Boy (Crown, 368 pp., $26), he was bemoaning the staggering prices of younger artists like Jeff Koons and Damien Hirst when the collector turned the conversation to the artist's own career, which had languished since its peak in the late 1980s. "You've got to face it, man," the collector told him. "You didn't make the cut."
"In the short-term context, it's true enough—from the investor mentality, obviously," Mr. Fischl told me one afternoon last month with a little shrug. He spoke slowly and seemed genuinely unburdened, relaxed. He's 65 and a big guy, with a boyish face and an Einstein-esque mop of white hair that frames his head. He was wearing a dark sweater and jeans. He could pass for a former hippie, though he briefly tried out that lifestyle in a makeshift commune during the Summer of Love in San Francisco and didn't much care for it. ("I ended up hating them all," he writes.)
We were sitting in the kitchen of the sylvan Sag Harbor home that Mr. Fischl helped design. He shares it with his wife, April Gornik, who paints haunting landscapes. They began living in the Hamptons full time a decade ago, and they have two cats, Bebop and Hooper. Deer regularly sneak up to their house and eat out of their bird feeder. "There is this one deer—it's a runt—and she's just absolutely drop-dead adorable," said Ms. Gornik. The week I visited she was celebrating her 60th birthday, though she looks a decade younger, with glowing skin and wavy blond hair. The two are something like local gentry.
"It's a charming fucking town," Mr. Fischl said happily. "Good water. Lots of water."
To most outside observers, Mr. Fischl is one of his generation's most successful artists, with numerous international exhibitions and work in museum collections, including at the Met and the MoMA. And yet the collector's comment stuck with him.
"The hardest part of writing was really talking about, you know, my feelings of loss of status, power, whatever," he told me. "I had never really admitted that, or would not accept [it]. Among close friends, we would sit around and bitch and moan, but to make that a public conversation, that was the most difficult—being sort of frank about the art world."
Much like pro sports or high finance, the art world is breathtakingly stratified today. As a small number of artists sell work for outsize sums (an eight-year-old Koons sculpture went for $33.6 million at auction last fall), even artists whose work trades for six figures, like Mr. Fischl, can end up feeling sidelined. The market dominates discourse.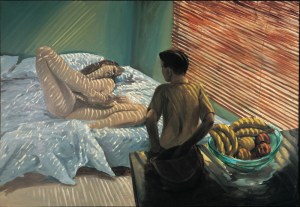 Bad Boy, which Mr. Fischl wrote with his tennis buddy, the writer Michael Stone, is a clear-eyed account of the art world's profound transformations over the past 30 or so years, told by an artist whose career perfectly maps that period. His meteoric rise tracked the art industry's growth in the 1980s, until it came to a halt. With the book, he's aiming at explaining the creative process to people, he said, but is also hoping "to reach art students, and [talk] about stuff they need to know. It's about the creative flow through a lifetime of making art and what to expect—where I fucked up, where I didn't."
"Rodin's like a godhead figure for me," Mr. Fischl told me as we looked at drawings by the artist—as well as by Klimt—that he displays in the library. "When contemporary artists portray the body, he said, "they're sort of depressed or alienated or something like that. Whereas Rodin, it's erotic, it's passionate, it's just powerful. You know when there's anguish, it's real anguish."
Mr. Fischl's art is similarly sincere; it's concerned with people—bodies—and their emotional terrain. His memoir shares its title with a chilling painting that he made in 1981 in that mode. It is set in a musky bedroom, with light creeping through drawn blinds. A naked woman, her legs spread as she reclines on her bed, is grimacing as she grips one toe. Meanwhile, a fully clothed young boy with his back turned to the viewer is staring at her, his hand slipped into her purse resting behind him. It is an unsettling scene. Mr. Fischl's other early works are similarly direct, and today they can still deliver sophisticated psychological shocks. Sleepwalker (1979) has a young boy masturbating in broad daylight outside in a small standing pool. In A Woman Possessed (1981), a woman is sprawled out on the ground next to a station wagon and an empty glass; a young boy holds her right leg, trying to move her.
Mr. Fischl has always said that these paintings are not strictly autobiographical, though they are also not entirely uninformed by his life. He grew up in exactly the sort of repressed, striving suburban milieu that these troubled early characters inhabit, in Port Washington on Long Island's North Shore. His father was a salesman, his mother a frustrated artist and a "ferocious alcoholic." His parents fought, sometimes violently.
The family moved to Phoenix after Mr. Fischl graduated high school. He dropped out of college near Pittsburgh after a year and briefly tried hippiedom but bailed, returning home depressed. He took art classes at a community college, was accepted at Arizona State, and then landed in the now-legendary first undergraduate class at the adventurous and conceptually minded CalArts. It was not easy to be a figurative painter there. Before he started classes, his mother crashed her car into a tree, attempting suicide. At that moment, as he writes in his book, "I vowed that I would never let the unspeakable also be unshowable. I would paint what could not be said."
He graduated in 1972 and met Ms. Gornik a few years later while teaching at the Nova Scotia College of Art and Design in Halifax. In the late 1970s, she proposed moving to New York for their careers. He balked at the idea.
"I came to accept my ambition slowly," he told me. "I felt like I was on the right path and beginning to make the work I should make, but the ambition part of it I was very skeptical of, because I didn't know how strong I would be to resist aspects of success—or aspects of fame. I just didn't know."
Ms. Gornik said she would go without him. He went along. They married in 1998.
He hit the ground running in New York, quickly becoming grouped with two rising stars—David Salle, a former CalArts classmate, and Julian Schnabel. During an early studio visit, Mr. Schnabel offered to trade works. Mr. Fischl was intensely competitive and told him there was nothing he wanted from Mr. Schnabel. "Yeah, it was pretty arrogant on my part," he said to me. "I don't know, if that had happened now, if I would have been so quick to say no."
The art market was revving up around 1980, after years in the doldrums. When new money arrived, it came furiously. Mr. Fischl's prices were rising quickly, and soon the dealer Mary Boone—the new queen of the art scene, as New York  magazine termed her—came calling. She was initially noncommittal after an earlier studio visit arranged by Mr. Salle.
"I didn't get the work," she told me. "I wasn't that interested, but you know what? I'm stupid. I don't always get things. I much more trust the gestation process. I don't really care if I like something or if I don't like it when I first see it. If it nags me, and I keep thinking about it, then I act on it."