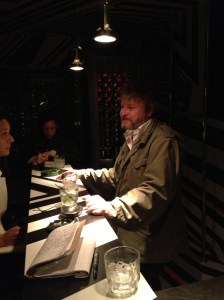 It's a mystery how certain elements—patrons, bartenders, architecture, maybe a few special drinks—come together to make a bar really and truly great.
Early on Wednesday evening the Frankfurt–based artist Tobias Rehberger stood behind the counter of a tiny bar in the basement of the Hôtel Americano and tried to explain to a few reporters the appeal of his favored hometown spot, Bar Oppenheimer.
"It's just, I don't know, a nice atmosphere there," he said, holding a rocks glass with a wedge of lime. "It's kind of easy going. It always was kind of in between a hip place—really great and people go there—but it was never really hip. I think that's why it kept its momentum, because it was never over-paced somehow."
Mr. Rehberger, a friendly, shy-seeming man with a curly mop of light brown hair and a short beard, has been frequenting the bar regularly since it opened in 1987, with the exception of one year that he lived in London, another he spent in New York and a short stretch after a new owner decided to redecorate the place. "You know, like suddenly putting Ferrari posters up," he said. "We didn't go for a couple of weeks, until the bartender…sent me a text saying, 'You can come again, I made him remove all the shit.'" He and his friends returned.
"It was always around the corner from my house," he said. "Even if I moved house, it ended up to be always not much further than 200 meters away from that bar, so it became a little bit like my living room or my regular hangout."
However, he and a friend, a fellow Bar Oppenheimer enthusiast, recently moved north, across the city's Main River, making trips there a bit less convenient. And so they hatched a straightforward solution: build an exact copy of the bar on their side. The owner of the original has agreed to run it when it opens later this year.
When Mr. Rehberger told the story in a meeting with his London dealer, Pilar Corrias, one of the gallery's director proposed taking the Bar Oppenheimer on the road. Why go without just because you're out of town?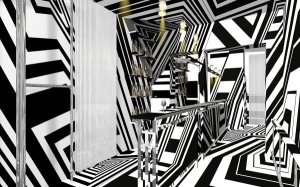 And so here we were, inside another replica of the bar, which came about after Ms. Corrias pitched the idea to Grupo Habita, which owns Americano. (The gallery and hotel are sponsoring the project.) It had taken about two weeks to construct, and is identical to the one in Frankfurt, with the exception of the decor: Mr. Rehberger has covered the walls, ceilings and countertops with one of his trademark camouflage patterns, darting black and white lines with a few bright orange highlights. "It's not only about copying a bar from Frankfurt," he said. "It's also a piece, a sculpture in itself."
Through July 14, it will operate as a fully functioning bar, and then perhaps travel elsewhere. Collectors are also welcome to purchase a bar.
I asked Mr. Rehberger what the proprietor of the Bar Oppenheimer thinks of all this. "He loves the idea," he said, laughing. "I mean, he has to—I'm his best client."