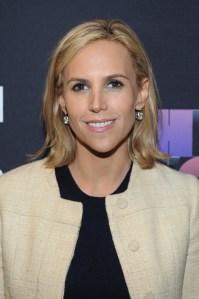 For the casual passerby on Canal Street, the storefronts appear relatively pristine. An amalgam of innocent merchandise lines the aisles, with logo-bearing bags seemingly a thing of the past—as if vendors have actually taken to heart New York's heightened scrutiny on counterfeit goods. But it only takes one raise of the eyebrows, and perhaps the standard "Do you have anything else?" inquiry, and suddenly you're in the back of a charcoal-colored van, combing through the myriad D&Gs, LV's and interlocked C's tucked away in a worn burlap sack.
It's one of New York's worst kept secrets, but one that newly minted billionaire Tory Burch intends to expose. This morning, the retailer filed four lawsuits in the Southern District Court of New York against wholesalers peddling counterfeit versions of Tory Burch jewelry across the state, with some marketing on an international scale. Their inventories boasted earrings, necklaces and bracelets, all marked by designs strikingly similar to the brand's TT logo.
Ms. Burch is seeking unspecified damages and injunctive relief from four companies, Wona Trading Inc, Lin & J International Inc., Jewelry House Corp. and Glitzlane Boutique.
"The company has long been vigilant in defending our intellectual property, and will continue to take counterfeiting and copyright infringement seriously," Robert Isen, Tory Burch chief legal officer told Women's Wear Daily. "It is an ongoing formidable challenge impacting our entire industry."
As the brand has grown in recent years, raking in a cool $800 million in 2012, internal teams have worked to beef up anticounterfeiting efforts.
"The counterfeiters continue to evolve and we look for new ways of finding them and shutting them down," Mr. Isen concluded to WWD.
Indeed, Ms. Burch's crusade comes amidst a broader legal crackdown on the counterfeiting trade. Just last month, New York City Council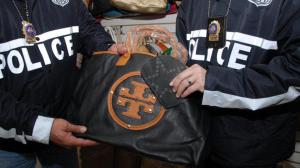 Member Margaret Chin, whose constituents reside in the Canal Street district, renewed the push for legislation against purchasing fake goods in the Big Apple. If caught fishing around those emblematic burlap sacks, customers could be slapped with a $1,000 fine and up to a year in jail.
"The ease with which counterfeit goods are sold in New York City reflects negatively on our reputation as a creative hub,"  Ms. Chin said. "Visitors come to New York for its authenticity, and we encourage tourists to take advantage of unique diversity of the local artists and designers that New York City has to offer, not knock-offs."
If the court rules in her favor, Tory Burch could be the second major designer in a year to score a victory against counterfeiting. Last April, Louis Vuitton took up the torch after uncovering numerous companies importing and selling goods with the French house's iconic Toile Monogram mark. After 15 months of investigation, the U.S. International Trade Commission issued a landmark decision for the fashion industry, calling on border agents to begin blocking fake LV duds from entering the U.S.
Joseph Giocanda, who represents international names such as Ferragamo and Burberry in trademark cases, noted that Louis Vuitton and Tory Burch's lawsuits indicate a rapidly growing trend in the fashion industry.
"Designers have become much more diligent and aggressive in pursuing this issue," Mr. Giocanda, who voiced his support for Council Member Chin's legislation, told The Observer.
Two landmark cases, however, can only chip away at the "perennial problem," he contended.
"Just as the fashion industry gets more aggressive, so does counterfeiting," he said. "At the end of the day, it's truly a plague. And it's not going away anytime soon."