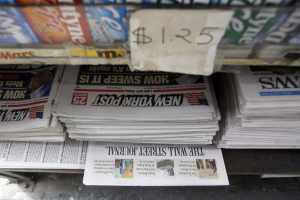 Next time you stop at newsstand for some gum, cigarettes or candy, (or a copy of The New York Observer) you might also find cell phone chargers and umbrellas that won't break the first time you open them, thanks to City Council Speaker Christine Quinn.
The Speaker and mayoral hopeful announced yesterday at a newsstand near City Hall that the Council will propose a bill to amend a little-known city regulation that limits the price of items sold at newsstands. Ms. Quinn's new bill will raise the limit from $5 to $10.
Currently, newsstands may only sell snacks, beverages and other products priced less than $5, though cigarettes, high-priced newspapers and magazines, prepaid MetroCards and calling cards are exceptions to the rule.
"This legislation will allow New York City's iconic newsstands to sell more products, thereby expanding consumers' access to more of the products they want and need," Ms. Quinn said.
This regulation applies only to newsstands regulated by the New York City Department of Consumer Affairs, not food carts or trucks, newsstands and convenience stands in subway stations or street vendors who sell cheap knock-off sunglasses and handbags.
Supporters of the new legislation, which will be officially introduced at a City Council meeting on May 22, said the higher limit could help keep newsstands in business.
"This will help newsstands stay in business by giving them items they can sell and make some money on," Robert Bookman, counsel to the NYC Newsstand Operators Association told Crain's New York. "It's to allow these other items which you can't sell for $5 anymore, a decent umbrella that will work for more than one rain, or a tourist guide.
Mr. Bookman also told Crain's that there are currently 300 newsstands in the city, which is down from the 1,500 that populated the city decades ago.
Of all the fun new items newsstands might be able to sell soon, including camera batteries and headphones, Ms. Quinn remarked that higher quality umbrellas might be the biggest draw.
"The $4 umbrella of 2002 isn't the same as the $4 umbrella of 2012-13," she said. "The $4 umbrella in 2013, you're lucky if it's going to get you to the corner."