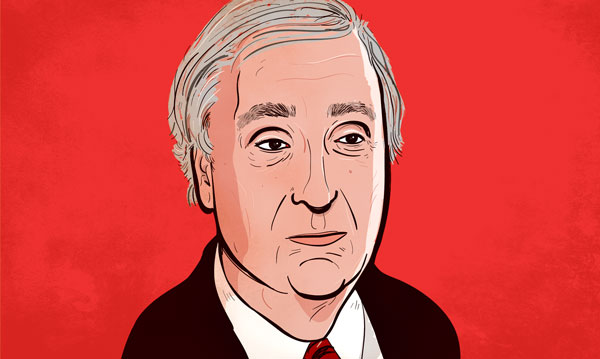 The week before Vito Lopez resigned, the state ethics commission released a scathing 68-page report that detailed a lurid pattern of abuse in his district office.
According to the allegations, the former assemblyman once lamented the existence of statutory rape laws in the presence of a 14-year-old intern. Mr. Lopez demanded massages from female staffers, including one who cried and expressed her discomfort as a former rape victim. At a bar one evening, he grabbed an employee's hands from across the table. When she tried to pull away, he tightened his grip. When she began to cry, Mr. Lopez said he'd release her only after she counted to 60. When she did, he stared at her for the full minute.
After resigning from his Assembly seat on Monday morning, Mr. Lopez is said to be contemplating a seemingly unfathomable second act: running for City Council. Given the accusations against him, what's more surprising is that even his detractors acknowledge that Mr. Lopez actually has a viable path to victory.
The key to his support is a career of aggressive local advocacy that goes back four decades. As an ambitious young politician, Mr. Lopez founded a far-reaching social service network that relied on public funding and over time, ushered in significant neighborhood improvements to Bushwick, a section of Brooklyn once plagued by violence, arson and riots. Despite the unsavory headlines, Mr. Lopez is still held in high regard among the beneficiaries of his efforts. "I don't believe that's true," Gloria Bonilla, 61, said of the allegations as she left a red-bricked Melrose Avenue building Mr. Lopez helped fund. "I don't care what anyone says."
"Who knows if it was just someone making up lies?" asked another building resident who declined to give her name. "I give him the benefit of the doubt."
"He's giving low-income families the opportunity to have beautiful apartments in Brooklyn," she added, gesturing to the buildings she's lived in for the past three years, which Mr. Lopez helped create.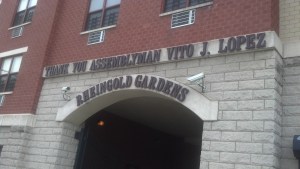 The sunny buildings, with their bright blue and cream accents, stand out in the working-class, largely Latino neighborhood. A sign above one entrance reads "Thank You Assemblyman Vito J. Lopez." Meanwhile, at a nearby intersection, the three other corners are empty lots, secured with graffiti-covered corrugated metal walls, barbed wire and padlocks.
Manuel Sanchez, 45, born in the Dominican Republic, has lived in the complex for two years. Despite limited English, his eyes lit up when he heard Mr. Lopez's name.
"This building, this whole block, he did it," Mr. Sanchez said. He said he'd heard about the allegations ("something about secretaries"), but has voted for Mr. Lopez numerous times and wouldn't hesitate to do so again.
In a city where most New Yorkers are hard-pressed to name their local assemblyman, how did Mr. Lopez become a household name in his district? Fresh out of Yeshiva University with a degree in social work, in 1973 the Bensonhurst-born Mr. Lopez founded the Ridgewood Bushwick Senior Citizens Council to deliver sorely needed services. In 1984, a seat opened up in the State Assembly, and Mr. Lopez's connections in the community enabled him to seize it.
By the time Clarence Norman, then the head of Kings County Democratic Party, was convicted of corruption in 2005, Mr. Lopez had enough support to replace him. As head of the county organization, he could reward allies with judgeships and electoral support—and threaten foes with primary challenges. That influence, combined with his perch on the Assembly's housing committee, allowed Mr. Lopez to funnel millions of dollars into Ridgewood Bushwick, which in turn provided him with name recognition, supporters and volunteers, both in his own district and neighboring ones.
"Vito created a new model of a contemporary political machine," Lincoln Restler, a northern Brooklyn Democratic activist and Vito antagonist, explained in an interview. "Gone are the days of widespread patronage in city government that district leaders and county government could deliver to their constituents. Vito created a nonprofit as a vehicle for delivering services to his political loyalists."
Rather than the outright graft of the Boss Tweed era, nonprofits provide a more above-board mechanism for moving taxpayer dollars around. Mr. Lopez's organization grew into a sprawling social services empire providing housing, health care, youth activities and senior centers to Bushwick, Williamsburg, Ridgewood and surrounding areas, while employing some 2,000 people. They included Mr. Lopez's girlfriend, Angela Battaglia, who reportedly made $352,000 as Ridgewood Bushwick's housing director in 2011. Up until recently, Mr. Lopez's campaign treasurer was the nonprofit's executive director.
"He has been involved in delivering services and doling out favors for a very long time to the people who live in this district," Mr. Restler said. "There are more abuelitas—more grandmothers—who have had Vito sit at their dining room table in this district than you would believe. Accordingly, a remarkable percentage of the people in this district and the surrounding areas have been unwilling to believe that this sexual misconduct is true."
If Mr. Lopez runs for City Council, his main opponent will be Antonio Reynoso, a former chief of staff to term-limited Councilwoman Diana Reyna–whose district he is now vying to represent. Mr. Reynoso, an energetic 30-year-old who biked over to a Williamsburg cafe to discuss the race last Friday, is a strong contrast to the 71-year-old Mr. Lopez, whose hulking frame can fill up a room. Where Mr. Lopez is quick to tout his extensive legislative record, Mr. Reynoso questioned whether someone so reviled could accomplish anything more when stripped of influence outside of the footprint of Ridgewood Bushwick.
"Vito is extremely defiant—egomaniacal," Mr. Reynoso said, suggesting the allegations only make Mr. Lopez more likely to run. "Every single day he has to prove something to the world. Who he harms along that path to self-fulfillment is insignificant to him … I don't want my community to be left with a representative who's not going to be able to help them."
Mr. Reynoso said the scandal's most salacious details have yet to permeate the community, and he admitted that Mr. Lopez's most passionate supporters may not be swayed, but the appearance of the former assemblyman's mug on the front page of the city's tabloids has had an effect. "People know, they just don't know how bad it is," Mr. Reynoso said. "They know it's in regards to sexual harassment, they just don't know the details."
It's still unclear whether Mr. Lopez, who has not been criminally charged despite the sordid pile of evidence against him, will ultimately pursue a comeback campaign. Although he firmly stated his intention to run last week, he later indicated that the decision would be informed by his health as he receives treatments for cancer.
Should Mr. Lopez make the electoral leap, he can expect plenty of headwinds from the city's political establishment. Many of Mr. Lopez's former political allies have called on him to stand down, while almost every mayoral candidate and labor union has publicly thrown endorsements at Mr. Reynoso, who has his own base of support. For the first time, Mr. Lopez would be running effectively on his own.
What's more, Bushwick and Williamsburg are less hardscrabble than they were when Mr. Lopez first arrived four decades ago. The western ends of Ms. Reyna's district have been subjected to waves of gentrification, and the electorate has accordingly transformed.
"This gentrifying community, there is a voting bloc to it," Mr. Reynoso said. "They tend to be more progressive and folks who really know what Vito is doing. They do read the Post and the Daily News."
Additional reporting by Jill Colvin