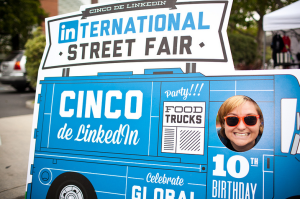 Looks like LinkedIn cofounder Reid Hoffman is just using any excuse to get shitfaced. In honor of the company's tenth birthday, he created "Cinco de LinkedIn," a real company event celebrated by its 3,700 employees.
Not only does it sound moderately offensive, like drunk-sorority-girl-loudly-practicing-her-Spanish-at-Blockheads obnoxious, but it is also numerically nonsensical. At last check, cinco is roughly translated to "five" and not "terrible fucking idea."
Mr. Hoffman, in his own words:
None of this would be possible without all of our LinkedIn employees, past and present, who've poured their passion and talents into building this company. In 2003, we were a handful of guys in a living room. Today, 3,700+ employees are celebrating "Cinco de LinkedIn" around the world.
And, perhaps worst of all, if the company's Flickr is to be believed, the party was held on a Sunday. Granted that is the actual day of Cinco de Mayo, but being forced to talk about endorsements and what Mashable stories are going be featured in the LinkedIn Today newsletter on a weekend sounds muy horribles.
We're scared to see how Mr. Hoffman forces his employees to celebrate Bastille Day.