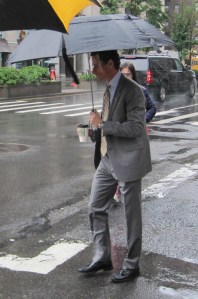 The miserable weather not only made for a dreary afternoon, it also rained out Anthony Weiner's plans to ride one of the city's new bike share bikes to his his first debate appearance, which is currently happening at NYU.
"It's perfect, if you're a duck," the ex-congressman told Politicker as he pulled out an umbrella and headed toward the subway instead of hopping on one of the bulky blue bikes, which hit the streets on Memorial Day.
Mr. Weiner had tweeted about his plans earlier Tuesday. "Gonna take @CitibikeNYC to my first debate today. @howiewolf impressed?" he wrote, reaching out to Deputy Mayor Howard Wolfson, one of the city's most dedicated cyclists, asking for a helmet to borrow.
"You can borrow mine!" Mr. Wolfson tweeted back.
Unfortunately, by early afternoon, it was raining cats and dogs.
"Too wet for me to @CitibikeNYC to the debate. #JustLostNYCRainBikersAssociation," he tweeted before leaving his house.
Mr. Weiner–who famously told Mayor Bloomberg back in 2010 that one of his first acts as mayor would be having "a bunch of ribbon-cuttings tearing out your fucking bike lanes"–said he actually owns his own bike, but signed up for the controversial bike share program anyway.
"It's been in storage for some time. I'm not much of a biker," he admitted. "I had to go get my helmet out of storage, too." But, he said he was ready to give the new bikes a spin.
"I was pretty fired up. I'm disappointed, 'cause I would have loved to see you–or these guys—biking backward taking a picture," he joked, referring to the small group of photographers who'd been staking out his apartment just in case he decided to check out one of the bikes, a row of which sit–conveniently enough–right across from his fancy new Park Avenue South apartment.
For what it's worth, Mr. Wolfson told Politicker that he got lunch on a Citi Bike despite the weather.