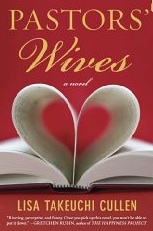 On Friday night, I drove an hour down the New Jersey Turnpike for a book event. I have a brand new book out — my first novel, titled Pastors' Wives.
I parked and checked my phone. My producers had assured me we wouldn't hear till Sunday if the pilot I wrote, The Ordained, would be picked up by CBS for series. Then I saw a smattering of messages from friends.
"Such a bummer about your show." "Does this mean what I think it means?" "Sorry, so sorry."
My network had announced its fall lineup, and we weren't on it.
I called one of my producers. He'd just heard too. But he'd also heard it wasn't over. CBS had picked up only two dramas so far, and word was they'd choose another.
I trudged through the upscale commuter town to the bookstore. My college pal Gerry had come for support. The clerk led us to the basement event space, where rows of folding chairs stood. They were empty.
I went back upstairs and sat at a table next to the door with a stack of books and a plate of cookies. A few families wandered in to kill time in the children's section. Their kids ate my cookies. I sold one book. To my friend Gerry.
"Maybe it wasn't the right…demographic?" said the clerk, as I left. We looked at the cover of my novel, which has a Bible on it, its pages folded in the shape of a heart. It's soapy women's fiction set in a Southern evangelical megachurch. He felt terrible. I felt worse.
Saturday came and went. We heard nothing. Misery.
Then, Sunday. It's hard to be anxious on Mother's Day, amid the flowers and the home-made cards and little-girl hugs. But I managed.
I stayed off the industry gossip sites, same as usual, though I see now they were rife with speculation. My producers clung to their cautious optimism. We were still in the conversation! We still had a shot!
It was my husband who Googled for news exactly two minutes after the news broke: the network had picked up a legal drama…that wasn't ours.
If you're a writer, you know this feeling. When the manuscript you slaved over for years is rejected by the dozenth publisher. When the magazine that commissioned your cover story mails you a kill fee. When a facsimile of the screenplay you sold to a studio gets made by someone else. It's a sucker punch.
And because we're writers, it feels intensely personal. On our best days we feel like we might actually be kind of okay at what we do. On our worst, we are exposed as frauds.
I know what you're going to say, and I thank you in advance. That it's amazing I got this far. That it's unheard of for a thumb-sucking novice like me to get a beginner script produced as a network pilot. I hear you. I hear the high risk, high reward. I hear the better luck next time. (Also, it's not completely and totally over; there's talk of cable.)
And someday soon, I will return your calls and we'll have that long-overdue lunch, over which I will regale you with the gory details.
But for now I am crawling into the darkest corner of my house and just rocking.
Lisa Takeuchi Cullen is the author of Pastors' Wives, a new novel from Penguin/Plume, and The Ordained, a 2013 CBS drama pilot. Previously, she was a staff writer for Time magazine. Readers can friend her on Facebook, follow her on Twitter @lisacullen, or visit her website at www.lisacullen.com.