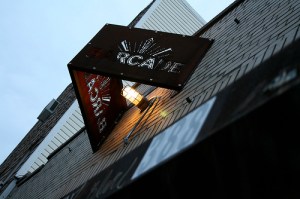 A mysterious prank caller has been terrorizing trendy Williamsburg watering holes and posting the calls online.
"How many single girls are there?" he inquires, the questions only escalating from there. "How many whiskies is one drink?" "How cheap is your beer?" "Do you have Buckhunter?"
When ringing Roberta's Pizza in Bushwick, he asked whether Beyoncé and Bill Clinton would be around and if it would be too much trouble to serve a bottle of wine to a group of 15 year-old boys. The caller has pranked 13 bars so far, and posted the conversations on a Tumblr called What's the Vibe Like.
In general, the bartenders have been patient, if unaware that a veritable Bart Simpson is on the end of the line. One barkeep lost it and demanded: "Why don't you talk to the nearest adult and they can help you?"
We'll leave you with Bushwick Country Club's response to whether or not one can make a reservation.
"It's not a real country club, it's a joke… It's an ironic little shitty golf course in back…"
Truer words were never spoken.