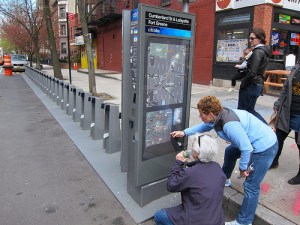 These last few weeks, to hear some people tell it, you'd think that New York's streets have been endangered by one of the greatest threats to public safety that the city has ever seen (not to mention the worst aesthetic blight since the Ugg craze). Comparisons have been drawn between the Department of Transportation and the Taliban. There have been impassioned pleas, there have been fits of yelling and, of course, there have been lawsuits. But now, perhaps, we'll finally get some respite from all the bike rack hatred as New Yorkers shift their hatred to the bikes themselves.
Citi Bikes will be arriving in the next few days—some 800 of the 6,000 bikes are already docked at stations—and New Yorkers will be able to take them out for a spin starting Memorial Day. It's just too bad that the incessant whining over the bikes is likely to sound very much like the incessant whining over the racks, led first and foremost by the chorus of sanctimonious ninnies going on about public safety.
Public safety seems to be the trump card these days when it comes to complaining about anything you don't like. It's also incredibly useful for garnering press attention and an effective response, even when the complaints are not justified.
Earlier this week, the New York Post reported that the co-op at 175 West 13th Street, which had sued the city for putting bike share racks in front of  its building "nearly saw its worst fears realized Sunday when emergency responders had trouble getting to a 92-year-old resident in distress."
Worst fears or just the non-event that bike rack-hating residents were waiting for to bolster their flimsy case? Residents eagerly painted a picture of EMS responders stymied by the waist-high racks for the Post, the co-op board president called the racks an "impregnable wall" and the board's lawyer quipped that it was "good news is the guy's not dead."
The 92-year-old's wife gave the most heartbreaking account of all, telling the Post that "the ambulance couldn't even come up to the building. The ambulance couldn't get to him."
Which was not actually true at all, according to the New York Fire Department, which released a statement from fire commissioner Salvatore J. Cassano reading, "Contrary to a news report today, FDNY EMT's had absolutely no problems responding to and providing medical care to a patient on Sunday on West 13th Street in Manhattan.  The FDNY has been working closely with DOT on this initiative and we have not experienced any problems nor do we anticipate issues operating at or near bike racks that have been situated on city streets."
Then, rather than owning up to the fact that the breathless account was overblown, the co-op doubled down and was seemingly rewarded when the DOT removed several racks directly in front of the building (the DOT said that it had been planning to remove the bike racks before the "incident.") Never mind that parked cars would ostensibly be just as much an impediment, if not more,  than the bike racks. And that there would be very little street parking in the city if the DOT created emergency zones in front of every residential building. (The DOT responded to The Observer's interview request by pointing to the Fire Department's statement.)
What's more, the removal didn't even placate the building residents, who are apparently too crotchety to navigate around any bike racks and are still suing the city because they believe that any bike racks in the vicinity of their building present traffic and safety concerns. We just hope that these people don't catch wind of how dangerous cars are.
So in days to come expect lots of whining and clutching of chests and news organizations around the city mobilizing to interview little old ladies and grouchy drivers about how unsafe bike share is. How it presents real public safety concerns. How it's an impediment to traffic. How someone is going to get hurt. When what they are complaining about is the fact that bike share will be a little inconvenient for anyone who's not using bike share. And what they're forgetting is that to live in New York is to be irritated by endless construction and sidewalk-blocking tourists and noisy neighbors. To be constantly inconvenienced, in other words, by other people doing things that have nothing to do with you.