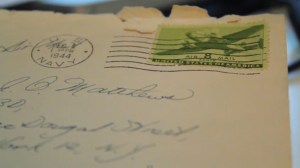 In February of this year, Abbi Jacobson, an aspiring actor, writer and artist living in the West Village, received a 70 year-old love letter originally from a military training facility in Jacksonville, North Carolina. She made a website, a YouTube video, a Facebook group and Twitter hashtag, aimed at using crowdsourcing to return the correspondence to its rightful owners.
Via Twitter, Ms. Jacobson was able to locate Scott Matthews, a 67-year-old architect living in Manhattan and the son of Lt. and Mrs. Joseph O. Matthews, the letter's author and intended recipient, respectively.
The younger Mr. Matthews was born two years after the letter was written and has two sisters, Marna and Maeve. His father, he said, was a Marine who attended Yale and became a CIA officer. He died of cancer in 1999. The couple had divorced 35 years earlier.
"I don't know much about my dad's life before I was born – I wonder what he was feeling about shipping out [for war]," Mr. Matthews told The Post. "He was a stiff-upper-lip type of guy, not very demonstrative. So I really have no idea what might be in the letter."
Ms. Jacobson has refused to reveal its contents, but presumably Mr. Matthews will be privy when she hands him the letter in person.
Ms. Jacobson told The Observer that she and her documentary-maker sidekick, Todd Bieber, intend to create a second video to update followers of the Lost Letter Project. "We haven't gotten into the details yet," she said.
She is currently corresponding with Mr. Matthews and his two sisters to set up a meeting in Manhattan.
"I think they were excited about the whole project," she said. "I was afraid that whoever we found wouldn't like this. They've been great, and I'm excited to meet them. I think it's going to be cool to show everybody that helped us find them."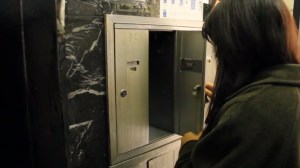 Ms. Jacobson received the letter from Seattle, where it had been packaged in a second envelope that showed the aged letter within. She read the letter, which had already been opened, searching for clues. Their first video, posted on the website,  showed Ms. Jacobson combing archives, libraries and databases, but coming up empty-handed. Mr. Bieber suggested that they "get the Internet involved and let them come to us with information."
Ms. Jacobson added that she hopes the project will inspire others to share their own lost letters on the site and delve into their own mysteries.
"I think a lot of letters during wartime were held because they were afraid that soldiers were sharing information," she said. "If other people find lost letters, it could be a place to come together in that way."
[youtube http://www.youtube.com/watch?v=CwI3uvwxAJg]