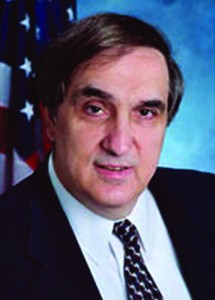 Although Assemblyman Vito Lopez was cleared of criminal charges today, the New York State Joint Commission on Public Ethics still found plenty to to dislike about him in a revealing report that concluded that Mr. Lopez fostered a shockingly sordid work environment in clear violation of official standards of conduct.
In the scathing 68-page report, Mr. Lopez–who was stripped of his powerful committee chairmanship and his position atop the Brooklyn Democratic Party after sexual harassment allegations first surfaced last year—engaged in such acts as hanging mistletoe in his district office and forcibly kissing a staffer, shoving his hand "all the way up" the inner thigh of another staffer and more. Mr. Lopez has insisted he's done nothing wrong.
With minimal paraphrasing, Politicker has compiled some of the most shocking findings detailed in the JCOPE report:
1. The Pink Eye Incident
One female Lopez staffer described her interactions with her boss as something like a "domestic abuse relationship" in which one "can't leave." In a text message exchange, this staffer, referred to in the report as Employee 2, told another staffer, Employee 3, that Lopez had asked why she didn't wear mini skirts and Employee 3 replied, "Oh my god! That's sexual harassment!!!!  WTF!!!!!!." In June of 2011, Employee 2 would contract pink eye after assenting to place eye drops in Mr. Lopez's infected eyes.
2. The Staring Contest
At a Brooklyn bar one evening, Mr. Lopez grabbed the hand of a staffer across the table. When she tried to pull away, he tightened his grip and when she began to cry, Mr. Lopez told her he would release his grip only after she counted to sixty. He did this while staring at her the entire time.
3. Disregarding Past Abuse
When a staffer told Mr. Lopez that she was a victim of a sexual assault in college and that his behavior was particularly upsetting to her, Mr. Lopez brought her head towards him, kissed her forehead and asked if she "felt guilty" about the attack. Lopez then asked her to massage his hand. As she massaged his hand, she began to cry and Mr. Lopez told her, "I like that you're holding my hand." She cried harder and Mr. Lopez eventually told her to stop massaging his hand.
4. The Cuddling Proposal
After the hand massage ended, Mr. Lopez said the staffer would have to "cuddle" with him in his Albany apartment. When the staffer resisted, Mr. Lopez threatened to terminate her, telling her that this would be her last trip to Albany.
5. Christmastime
Mr. Lopez announced to his office that he wanted to hang mistletoe over a staffer's desk and give her a kiss. When the staffer suggested he show affection toward his girlfriend instead, Mr. Lopez grew angry and told the staffer not to mention his girlfriend again. Mr. Lopez called the employee "uptight" and on other occasions told her she "must be a lesbian."
6. Legislative Rewards
Mr. Lopez once asked a staffer if she would kiss him if the Assembly passed a piece of legislation they had worked on. While the staffer said she would kiss him on the cheek, Mr. Lopez insisted on a kiss on the lips. The staffer refused. This same staffer also claimed Mr. Lopez asked her if she would accompany him on a trip to Russia and sleep in the same bed with him. When the staffer told Mr. Lopez she would not go on the trip under those conditions, Lopez passed her a note that read: "One drinking partner, one train car, one bed – yes or no?" When staffer said "no" for a second time, Lopez became angry, ripped up the note, and left.
7. The Jagged Fingernail
During the car ride home, a staffer said that Mr. Lopez once again put his hand between her legs on her inner thigh. She squeezed her legs together in an effort to prevent him from touching her and was scratched by one of Mr. Lopez's jagged fingernails.
8. Just The Cheek
As dinner time was nearing one evening, Lopez suggested he and a staffer freshen up in a hotel room.  The staffer reluctantly agreed. Once in the room, she stated that Lopez grabbed her face and tried to kiss her. She repeatedly asked Mr. Lopez, "What are you doing," and "fought him off." Mr. Lopez tried to justify his conduct by telling her that he was only trying to kiss her on the cheek.
9. A Long Drive
A staffer once said she thought Mr. Lopez was too drunk to drive, but he insisted on doing so anyway. On the drive home, Mr. Lopez again requested a massage for his right hand. She said she complied because she was worried that Lopez might fall asleep while driving and she thought the massage would keep him awake. He used this opportunity to repeatedly force his right hand between her legs, at one point touching her underwear.
10. All The Way Up
At a Long Island restaurant, Mr. Lopez told the same staffer who had massaged his hand to do it again. This time, Mr. Lopez placed his hands on the staffer's legs which she kept tightly crossed. Mr. Lopez pried her legs open and forced his hand between her legs and high up her inner thigh–in the words of the staffer: "all the way up."
Additional reporting by Colin Campbell.