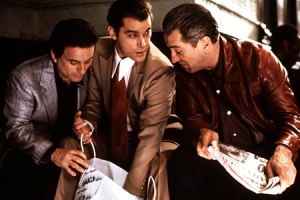 Someone has been watching too much Goodfellas.
In a heist reminiscent of the 1990 movie — and the real-life Air France and Lufthansa capers that are detailed in Goodfellas source book, Wiseguy —  $1.2 million disappeared from a Swiss Airlines shipment at JFK this week.
Authorities believe that the person who stole the cash was an airport insider, according to a report in The Post.
The money was a part of a $93 million dollar shipment in three packages on the plane, headed to a federal reserve in East Rutherford, NJ.
The packages were sealed at JFK, but when they arrived in New Jersey on Monday authorities described an arm sized hole in one of the shipments, perfectly sized for an employee to reach in with his or her criminal hands.
Authorities believe that the thief damaged the crate with a forklift, stole the cash, and then positioned the crate in the hangar so that the damage wasn't visible until inspection at its final destination.
The cash was bundled in $100,000 packages, which means, if our math is right, the criminal managed to extract 12 such bundles.
There is no word as to why the man (or woman) wasn't interested in the other $92 million in the crates.
The shipment was headed to the New Jersey plant for handling and processing as a part of the Federal Reserve Bank of New York. A law enforcement official told The Post that the money was moved in an "intra-bank transfer" from an American bank with services in Zurich to a domestic branch.
The Post reports that the airport plans to give its employees a lie detector test, specifically those who had direct access to the assets.