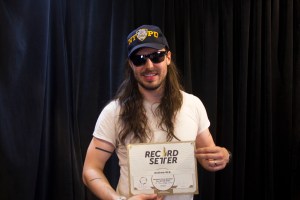 There were few coherent words left last night when The Observer caught up with rocker Andrew W.K. following his record-breaking twenty-four hour drumming session, but we managed to get them.
The Party Hard singer looked tired but alive yesterday at the Oakley shop in Time Square, wearing an NYPD hat over his long hair and shades over his surely bloodshot eyes. The stunt was exhausting, but his solo was interrupted often. Throughout the day, he was joined by Questlove from The Roots, The Red Hot Chili Pepper's Chad Smith and a full marching band.
As the twenty-four hours drew to a close, we watched the final seconds slip away and his hands slow down to an almost imperceptible beat, balloons and confetti released as the cheers of joy went up.
Pale, he was wrapped in a champion's robe before receiving the wildly specific official certificate of: "The world record for the first man to complete 24 hours of drumming in a store," presented to him by a RecordSetter.com employee.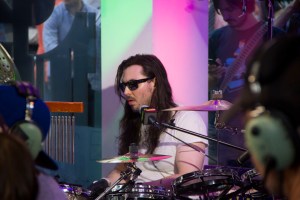 Going upstairs, we were given a moment with the triumphant rocker before he surely collapsed. Just before answering our questions the singer, who is renowned for his evangelical love of partying, called for champagne and a tiny novelty bottle was duly presented.
NYO: Andrew, do you still feel like partying after all that?
AWK: I'm getting ready for a concert, so I have to take an early morning flight to Michigan.
What if someone came up and was like 'Let's go party, hard, right now.' Would you do it?
Well, I'm going to go party with my wife.
If you could have one thing right now, after 24 hours of solid drumming, to satisfy yourself, what would it be?
Liquor.
Although being awake for an entire night and day of intense rock-themed exercise, Mr. W.K. was managing to hold it together enough for an impromptu press conference, and we commend him for that. (We also had sneaking suspicion it was because 24 hours of drumming is probably something of a holiday for a man who believes "partying" is a religion.)