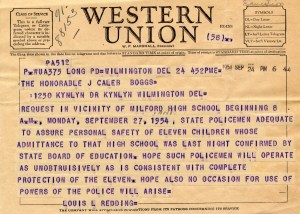 Next month, the last telegram in the history of the entire world will be sent — unless one Indian wire fiend has his way.
India is the only country left with a government-run telegram service. Incredibly, 5,000 of the missives are still sent daily in India, USA Today reports. But state-owned telecom company BSNL hemorrhages $23 million per year on the quaint medium, so they're bowing out of the telegram biz on July 13.
Cable enthusiast AP Tripathi is pissed. He's threatened to embark on a hunger fast until his beloved telegrams come back, and he notified the government of his intentions via telegram. From USA Today:
"'I am a regular user of the telegram and it is an important tool for activists,' says fan AP Tripathi. 'For example, a telegram to a court informing them of illegal detention of a citizen by the police is taken as a writ petition.'"
Well, good for activism rarely means good for the government. Add that to a dismal lack of profits, and the shut-down is a no-brainer. Guess the activists of India had better start springing for burner cell phones like normal 21st-century renegades.
In the meantime, if you're a big fan of wasting money, here is a website where you can send an olde-timey telegram by registered post for a mere $22.50, only a quarter of the cost of a month's worth of unlimited smartphone service.
[H/T USA Today]